A beautiful 50ft South Carolina waterfall in the upstate on a well maintained and moderate trail.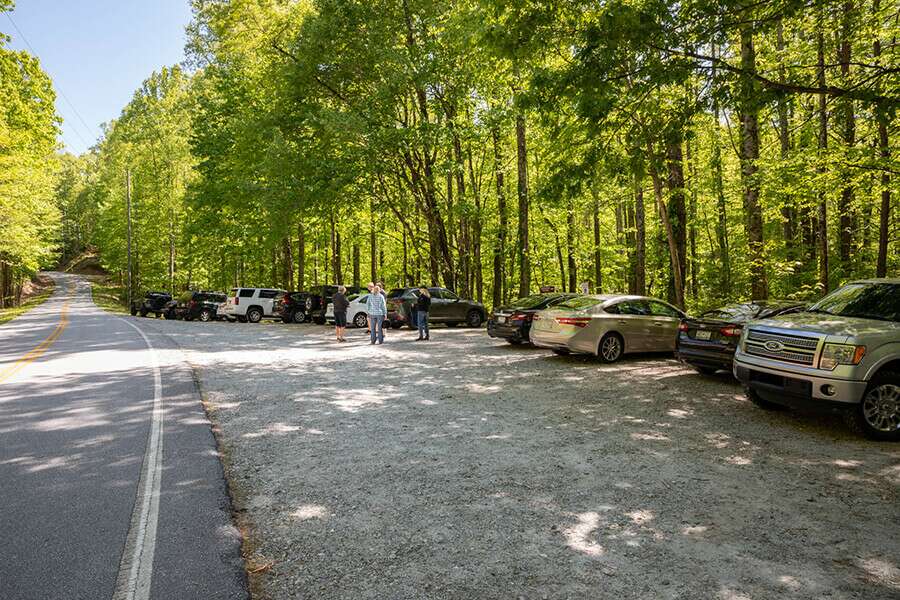 On the road leading up to the top of Sassafras Mountain, the highest mountain in South Carolina, is a trailhead to a beautiful and easy to reach waterfall that you don't want to miss: Beech Bottom Falls. Located inside the Jocassee Gorges Wilderness Area of South Carolina, this 50ft waterfall is well formed and generally has good flow. The 2 mile round trip trail takes you to a viewing platform that provides excellent views of the falls.
The trailhead to Beech Bottom Falls is located on the F. Van Clayton Memorial Highway in Sunset, South Carolina. It is about 3 and a half miles before you reach the parking area for Sassafras Mountain or about 1.5 miles from Highway 178. It is also where the Foothills Trail intersects the road. Look for a large pull-off parking area with some signage. The parking area isn't too large but should be sufficient most days. There is also additional parking at a smaller lot just about 100ft up the road. There are no restroom facilities at the trailhead.
The entirety of the trail to Beech Bottom Falls is in exceptional condition with very nice bridges over all water crossings. There is also excellent signage for all turns and intersections.
After crossing Abner Creek, the trail will narrow slightly and continue a short distance before turning left at a signed trail intersection and crossing Abner Creek again. After the second creek crossing, the trail will ascend a short hill before heading right at another signed intersection.
The trail narrows a little more at this point and will generally be a series of short hills, up and down, while the trail meanders through the woods to the falls. It is a very nice section of the forest and you are never really too far from Abner Creek so you will likely hear it in the background.
Eventually you reach the final section of the trail where it descends down to the lookout platform. The lookout platform is very nice but it isn't too large and can become crowded on busy days. It does, however, provide excellent views of not only the falls but also the surrounding mountains and forest. It is a great spot to relax, take a few pictures, and enjoy one of South Carolina's more picturesque waterfalls.
This is an out and back hike so when you have finished enjoying Beech Bottom Falls, hike safely back to the parking area.