A beautiful waterfall that is right next to the main road. In fact, there is a road you can use to sometimes drive underneath Bridal Veil Falls.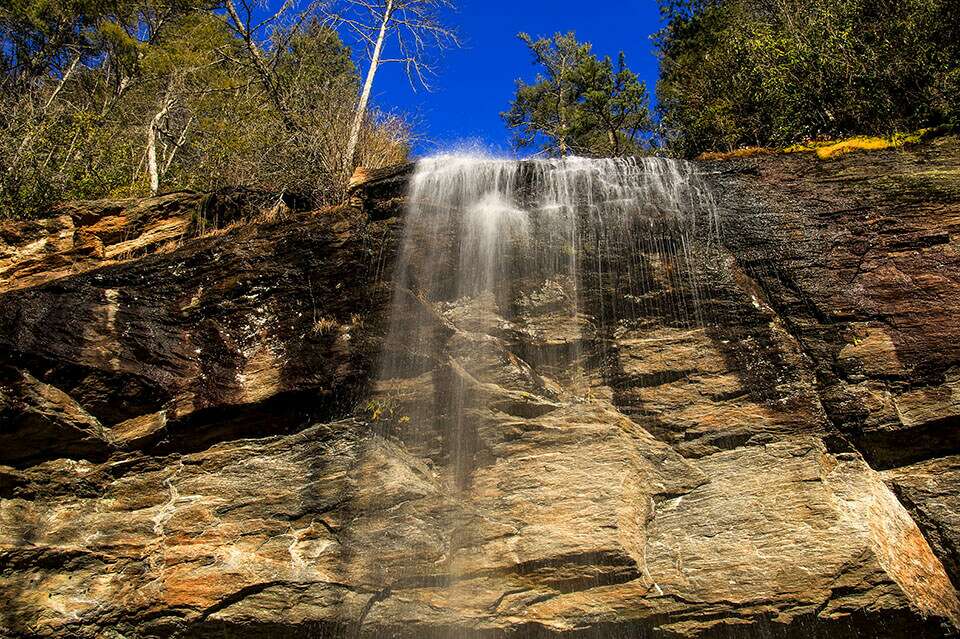 A few miles outside of Highlands in Western North Carolina, is the beautiful and unique Bridal Veil Falls. This special waterfall has the distinction of being the only waterfall in North Carolina that, if conditions allow, you can drive your car on a one way road behind the falls.
Bridal Veil Falls is located off Highway 64 a little over 2 miles West of Highlands North Carolina. There isn't any signage leading up to the falls but you absolutely can't miss it as it is on the side of the road. There is a pull off area with limited parking available. Highway 64 is a busy highway so make sure you get fully off the road before stopping to view the falls. Bridal Veil Falls is about 90 minutes from Asheville North Carolina, 1 hour 45 minutes from Greenville South Carolina, or 2 hours 15 minutes from Atlanta Georgia.
Bridal Veil Falls is a beautiful waterfall with that plunges approximately 40 feet over what used to be the original Highway 64. It is definitely a one of kind waterfall where if weather permits, you can usually drive your car behind the falls. However vehicle access can be restricted at times especially during the winter months when there is ice present on the road. If you are in the area, Bridal Veil Falls is worth visiting. If you are not in the area, Bridal Veil Falls may not be worth the trip all by itself but there is so much more to see in this area that it wouldn't be difficult to justify the trip from wherever you are. Bridal Veil Falls is also a great spot for people who love to experience the beauty of waterfalls but might not be able to make the necessary hike in order to access many of the waterfalls in the Carolinas. You could enjoy Bridal Veil Falls from the comfort of your car but, if you can, get out and enjoy it from many different angles.