The last remaining covered bridge in South Carolina, Campbell's Covered Bridge is a South Carolina upstate treasure.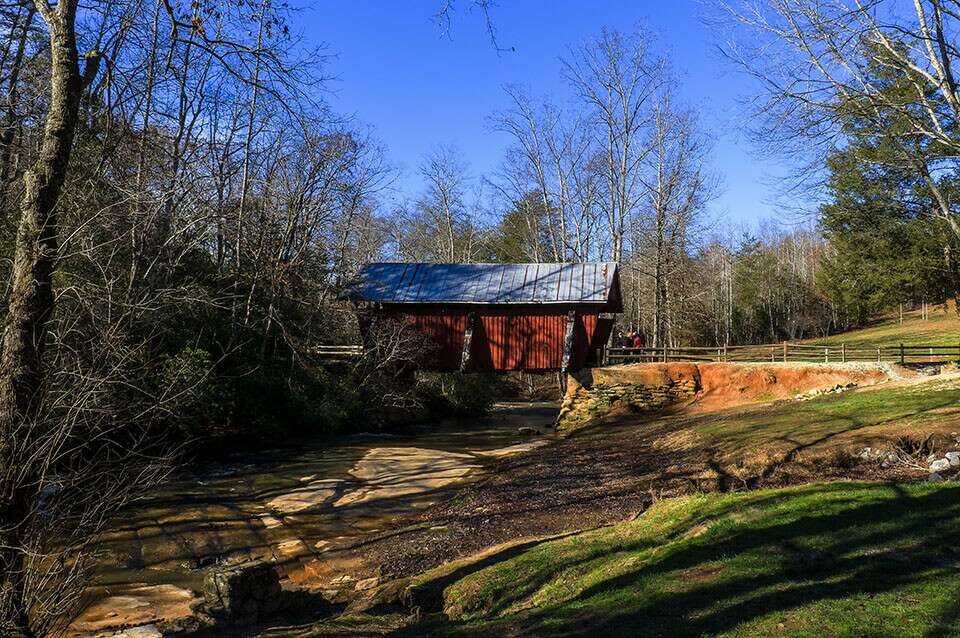 Nestled nicely in north Greenville County South Carolina, is this absolute gem of a park – Campbell's Covered Bridge. Spanning Beaverdam Creek, the 28 foot long bridge was constructed in 1909 by Charles Irwin Willis and is the only remaining covered bridge in the state of South Carolina. It is a historic site that has been made into a beautiful 17 acre park by Greenville County, who have done a phenomenal job preserving the bridge and creating an extremely inviting, relaxing, and informative environment around this beautiful piece of South Carolina history.
Campbell's Covered Bridge is located at 171 Campbell Covered Bridge Road in Landrum South Carolina. It is about 35 minutes from downtown Greenville South Carolina or about 1 hour from Asheville North Carolina. Whether you approach from the North or South, Highway 14 will probably be your best bet as the bridge is just a few minutes off the Highway. There are numerous signs leading to the park so you should have no problem finding it. The parking lot is nice and spacious.
As you arrive at Campbell's Covered Bridge you will feel a sense of intrigue and relaxation. You will be Intrigued with the obvious historical significance of the bridge and the natural curiosity running through your mind. When was the bridge made? Who made it? Why was it made? With most of the parks they manage, Greenville County did a wonderful and tasteful job with interpretive signage to answer all of the questions you have about the bridge and the stories that surround it. However, with all of this intrigue you can't help but feel relaxed while you are in the park. The grounds of the park are very well maintained with the inviting presence of picnic tables and benches along Beaverdam Creek and open green space. It is a great spot to visit no matter what the reason which is why this is such a popular spot for anything from someone relaxing on a bench reading a book to the occasional wedding that can occur on the grounds. No matter what the event, the Bridge always remains open for public access.
Campbell's Covered Bridge is definitely worth a visit if you are anywhere near the area. Just make sure to allocate enough time to relax and take in all that the park has to offer.