the 100ft Catawba Falls is a popular destination and is easily reached via a well maintained trail.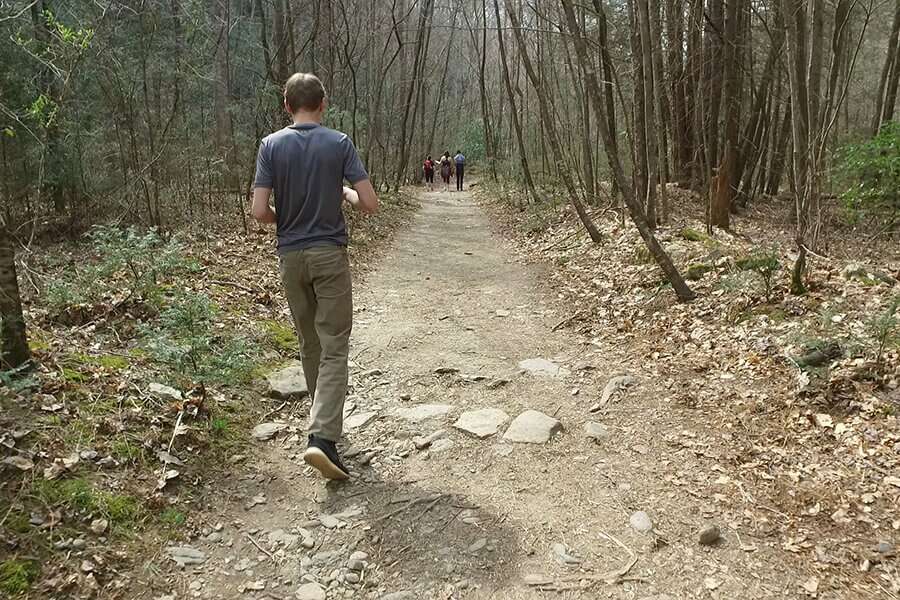 Just outside of Old Fort North Carolina, about 30 minutes East of Asheville, is the exceptionally beautiful Catawba Falls. Catawba Falls cascades over 100ft as the Catawba River rushes down the mountain along the Southern edge of the Pisgah National Forest.
The trailhead to Catawba Falls is easily reached; it is only about 2 miles from exit 73 off Interstate 40. As you exit the interstate, you will parallel the 40 heading west on Catawba River Road following the road until it ends at the trailhead. This is a popular trail and, while the parking lot is large, it can overflow at times to parallel parking along Catawba River Road. There are restroom facilities and informative signage at the trailhead area.
The hike to Catawba Falls is 1.5 miles for a roundtrip total of 3 miles. It is a moderate hike with two river crossings where you might get your feet wet, there are a few boulders that you will need to scramble over, and a steady but easy elevation gain leading up to the falls. The trail is very well maintained and easily followed.
The hike starts out in the back corner of the parking lot and initially stays fairly level. You will quickly encounter your first river crossing where you are most likely to get your feet wet. Be safe and take your time getting across then continue on the trail following Catawba River upstream. As you continue on the trail there will be several small cascades along the river that build in intensity as you go further upstream. You will pass some old stone structures and a dam that were built in the early 1900's. Eventually, and after another river crossing, you will reach a large boulder field that almost seems to consume the trail. Stay to the right of the river following the trail upstream to the sound of the falls. You will arrive at the base of the falls where you can find yourself a nice safe spot to relax and enjoy the beautiful Catawba Falls.
Note that the trail to upper Catawba Falls, as of this recording in early 2016, is unsafe and closed while the forest service reroutes the trail beyond Catawba Falls. So please be safe and observe all signage along the trail.
Hike back the trail in reverse to return to the parking lot.