A pleasant 2 mile hike to a 50 foot waterfall in the Southern Pisgah National Forest.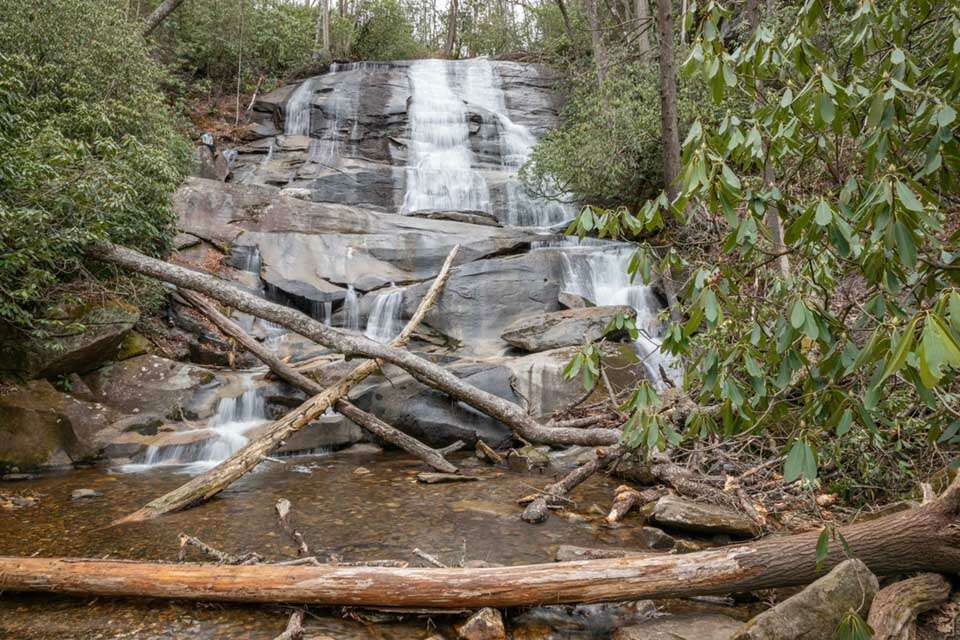 There are a high number of exceptional waterfalls in the Southern Pisgah National Forest area near Brevard North Carolina. One of these falls, Cove Creek Falls, is no exception to the staggering beautiful waterfalls that this area produces. This 50ft wonder is reached via a 2 mile round trip hike that is a moderate and enjoyable walk through the forest.
The trailhead to Cove Creek Falls is located at the Cove Creek Group Camp parking area off Forest Road 475. It is just past the Pisgah Center for Wildlife Education and the State Fish Hatchery; right before the pavement ends. Look for the large sign on the side of the road. The parking area is somewhat small and doesn't have a lot of room so it is best to arrive early. Cove Creek Falls is about 50 minutes from Asheville North Carolina or 90 minutes from Greenville South Carolina. There are no restroom facilities at the trailhead but there are some at the camp group which is along the trail.
The hike starts at the gated road next to the campground sign. The trail is initially very wide and flat and will quickly encounter the creek. If the flow is low or you want to get your feet wet you can cross the creek. Or you can take the trail that veers off to the right which will take you to a footbridge across the creek.
After the footbridge the trail will join back up with the road and continue up a hill for a bit while you parallel the creek. Just before you enter the big clearing for the campground, you will encounter the Caney Bottom Trail on your left. Follow this trail for about 100ft until you reach the blue blazed Cove Creek Trail that heads right. Follow the Cove Creek Trail and it passes the campground and heads into the woods with a slight ascent.
You will intersect the Caney Bottom Trail but continue straight on the Cove Creek Trail which is now blazed yellow. You are almost at the falls and should start to hear it soon. If the leaves are off the trees you will also see it in the distance.
As you approach the top of the falls look for a signed turnoff to Cove Creek Falls. This steep trail will take you quickly down to the base of the falls where you can relax and enjoy the falls from a good perspective.
Cove Creek Falls is a multi-tiered cascade with two very distinct levels. It usually has a pretty good flow and is nice and loud at the base. While it can be popular during the warm months it is always a good spot to visit, hang out, and enjoy.
This is an out and back hike so when you have finished enjoying Cove Creek Falls hike safely back to the parking area.