A short hike to a very tall 100+ ft waterfall in the Southern Pisgah National Forest. A kid friendly hike.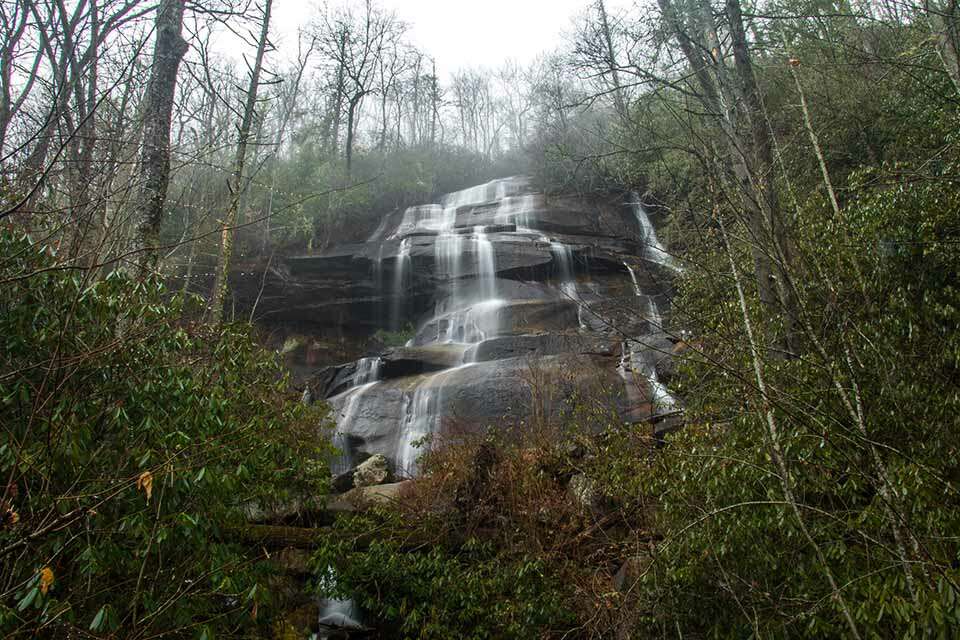 Just North of Brevard North Carolina, a few miles past the Pisgah Center for Wildlife Education, is the 100+ft waterfall – Daniel Ridge Falls. Also referred to as Tom's Spring Falls and Jackson Falls, this kid friendly spot in the Pisgah National Forest is easy to reach as it is only 1/2 a mile from the trailhead. It should be on your list of places to visit when you are exploring the wonders and beauties of the Pisgah National Forest.
Daniel Ridge Falls is located on the unpaved National Forest Road 475 which is off of scenic highway 276. Initially the forest road is paved but becomes unpaved about 2 miles after you pass the Pisgah Center for Wildlife Education. After about 1 mile on the unpaved section, the parking lot for Daniel Ridge Falls is on the right. It is a decently sized parking area but this is a popular spot and it can become full at times. There are no restroom facilities at the trailhead or nearby. Daniel Ridge Falls is only about 25 minutes from Brevard or about 1 hour from Asheville North Carolina.
The trail to the falls starts in the back of the parking lot on the well marked Daniel Ridge Loop Trail that continues past the gate. Very quickly the trail crosses the Davidson River over a well constructed bridge. Shortly after the bridge the trail will fork, which will start the loop part of the trail. Take the right side of the fork to reach the falls which is only about another 4/10's of a mile up the trail. Note: the Daniel Loop Trail cuts off to the left but you want to stay on the larger trail straight ahead as the falls are just a little past the turnoff.
The best view of the falls is going to be from the main trail right where the creek flows under the trail; however, there is a trail that leads 50ft or so up to the base of the falls if you want to get a closer look.
Daniel Ridge Falls is a very tall waterfall with many cascades. The flow will vary depending on the amount of recent rainfall so if it has been dry lately, you might want to wait on your visit. Anytime you choose to visit the falls, it will be beautiful. Not only is it a great waterfall but it is also a gorgeous section of the Pisgah National Forest.
When you are finished enjoying Daniel Ridge Falls, hike safely back to the parking area. If you want to hike the loop, it is a total of 4 miles and the red blazed trail will cut off to your right as you head back towards the parking area.