An easy and short overview trail at the Dismal Swamp State Park of North Carolina that will make you feel like you are miles away from everything else.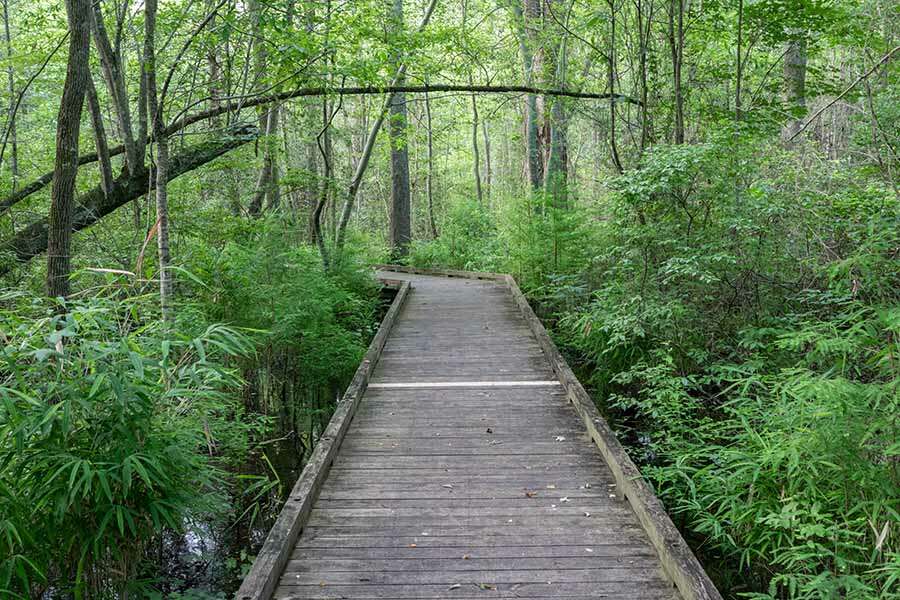 Inside Dismal Swamp State Park of North Carolina, which is part of the much larger Great Dismal Swamp, is the easy and informative overview walk known as the Boardwalk Trail. This ½ mile figure eight loop trail is a great introduction hike to the area as it lets you experience the swamp while comfortably elevated on a nicely constructed boardwalk sidewalk. It is also filled with numerous informative signboards, picnic tables, and benches to help you enjoy this
beautiful section of Eastern North Carolina.
Dismal Swamp State Forest is a large area of almost 15,000 acres in northeastern North Carolina. It is adjacent to, and part of, the much larger Great Dismal Swamp that is a large swamp area in southeastern Virginia and northeastern North Carolina. The state park has over 16 miles of trails that are available to the public along with a canal section of the Intracoastal Waterway that can be enjoyed by boaters. This area is also rich in history which is displayed
throughout the park and at the onsite visitors center.
Dismal Swamp State Park is located at 2294 U.S. 17 North in South Mills North Carolina. It is about 3 miles south of the Virginia border on US Highway 17 just behind the Dismal Swamp Canal Welcome Center. There is an extremely large parking area along with numerous restroom facilities onsite. Dismal Swamp State Park is about 20 minutes North of Elizabeth City North Carolina or 30 minutes South of Norfolk Virginia.
The trailhead for the Boardwalk trail is located just beyond the Visitors Center on the right as you enter the park. Look for the trail sign to the left of the boardwalk and informative sign to the right.
This is a very short trail that is best completed at a slow leisurely pace. You will want to take your time and be as quiet as possible so that you can hear, and hopefully see, all of the wildlife that is present in the swamp. You will encounter a few forks in the path as this is a figure eight loop so it really doesn't matter which way you take. Just pick a direction, walk the figure eight, and enjoy the environment.
There are several informative plaques placed throughout the boardwalk to explain some of the features along with wildlife that live in the swamp. There are also a few benches to relax at and even a picnic table you could use to enjoy lunch in the swamp. The best part of this hike, however, is what is not there. There are not a lot of distractions or noise. Just you and the sights and sounds from this little piece of the Great Dismal Swamp.
When you have finished enjoying the swamp, walk safely back towards the visitor center and off the boardwalk.