It is only 1/2 mile to Douglas Falls which completely separates from the rock as it falls 60ft.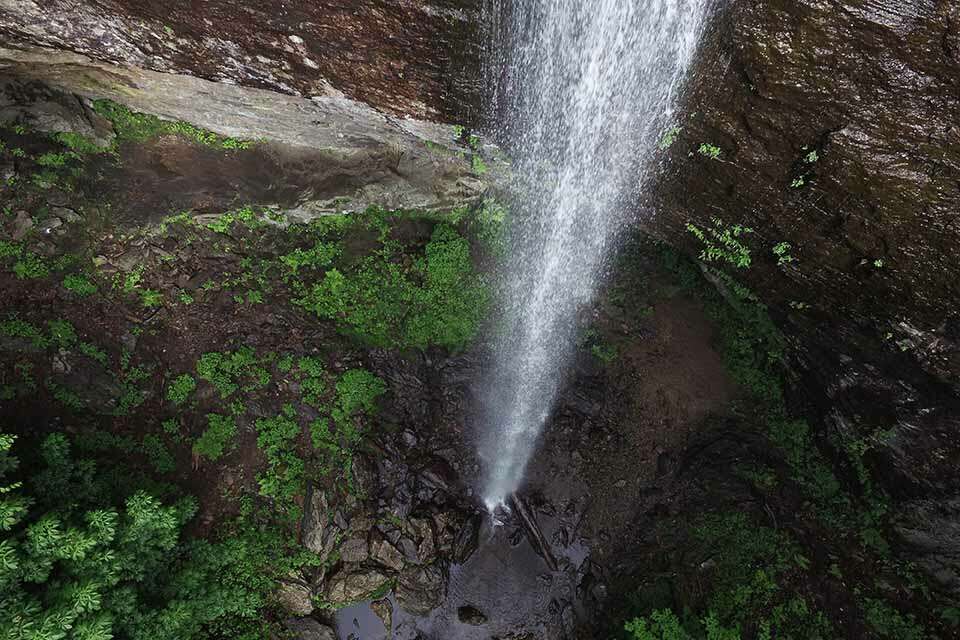 In a very remote section of the Northern Pisgah National Forest of Western North Carolina is the unique and very beautiful – Douglas Falls. This 60ft gem of the forest freefalls from the ledge above creating a unique and stunning environment where you can completely walk behind and, if you wanted to, underneath Douglas Falls. While the falls are in a very remote section of the forest and can be reached from multiple trails, the shortest trail available is only about 1/2 a mile to the falls.
The trailhead for the short route to Douglas Falls is located at the end of the unpaved forest road 74 near the town of Barnardsville North Carolina. For most people, there's no quick way to the trailhead and it will be a bit of a drive with the last 9 miles being driven on the unpaved forest road. It is, however, a very beautiful drive to the falls especially on the forest road as there are a number of smaller cascades and waterfalls that you pass along the way to the trailhead. This includes the named Walker Falls that is about at the half way point. Plan on taking some extra time to enjoy this beautiful drive and section of the forest. The parking area is at the end of the road and while it isn't huge, it is usually sufficient. Douglas Falls is about 75 minutes from Asheville North Carolina. There are no restroom facilities at the trailhead.
The hike to Douglas Falls starts at the marked trail on the far end of the parking area. It is a downhill walk to the falls and the trail is marked with yellow blazes. It is a very short hike to the falls and the trail is easy to follow although it is somewhat rocky. Very quickly you will reach the end of the hike as Douglas Falls becomes visible through the forest. It is a very beautiful waterfall.
There is plenty of room to sit back and enjoy the falls either in front of it or behind it. On a warm Summer day you could stand beneath the waterfall and cool off but be mindful of the risk of debris coming down the falls. Many of the rocks and wood at the base of the falls got there by falling over the falls. Regardless of how you choose to enjoy Douglas Falls, make sure you allow yourself plenty of time to spend at the falls as you will want to hang out for awhile and really enjoy the moment at Douglas Falls.
When you have finished at Douglas Falls, hike safely back uphill to the parking area. Note that there are multiple trails that end up at Douglas Falls so make sure you are on the correct trail leading out.