The mighty Elk River Falls has impressive flow and is very easy to reach.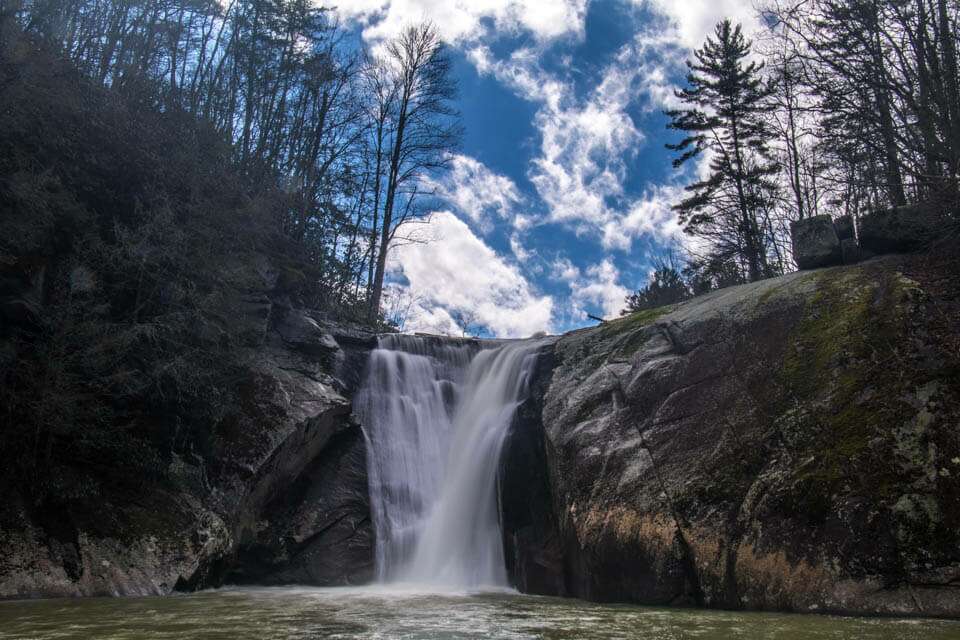 In the northern Pisgah National Forest of North Carolina, almost at the Tennessee border, is the mighty Elk River Falls. Previously named Big Falls, for good reason, the volume of water that pours over this 50ft beauty is very impressive. The Elk River plummets down the rock face into a large pool before turning into a few smaller cascades and forming smaller pools that are popular summer swimming spots. It is a wonderfully loud waterfall that is a short 5-10 minute walk from the parking area.
The trailhead to Elk River Falls is located at the end of Elk River Road in Elk Park North Carolina. Elk River Road is an unpaved road but it is kept in great shape and most cars should have no problem reaching the trailhead. It is about 10 minutes off Highway 19 just a few minutes south of the Tennessee border. Elk River Falls is about 50 minutes from Johnson City Tennessee, 90 minutes from Asheville North Carolina or Wilkesboro North Carolina. There are no restroom facilities at the trailhead.
The trailhead starts at the stairs on the far side of the parking area. There are signs indicating Elk River Falls and Big Falls. There are also numerous signs warning of the dangers associated with this waterfall and we recommend that you read and heed them all. It is very unfortunate but a lot of people have perished or been injured at Elk River Falls. Please be safe as you enjoy this spot.
The Trail will parallel the river the entire hike. There is a service road the veers off to the left but you want to stay on the trail to the right. Very quickly you be right at the top of falls – literally. You will get a unique perspective of the falls as you stand right on top of it but be very careful; especially if you have children with you. A slip into the river here would almost certainly be fatal. It is very beautiful to see but stay back from the edges of the cliff and the river.
When you are done enjoying the view from the top, continue on the trail to a set of wooden stairs that takes you down to the base of the falls.
The trail puts you onto a large flat rock that is the perfect spot for viewing the falls. The area is large but it can become crowded during the warmer months when some people will wade in the pools downstream from the cascades. Regardless of how many people are there visiting Elk River Falls, you should have no problem finding your own spot to sit back and enjoy this impressive waterfall.
This is an out and back hike so when you are done enjoying the falls, hike safely back to the parking area.