A historical and cultural site that contains a large boulder with a large number of petroglyphs on it.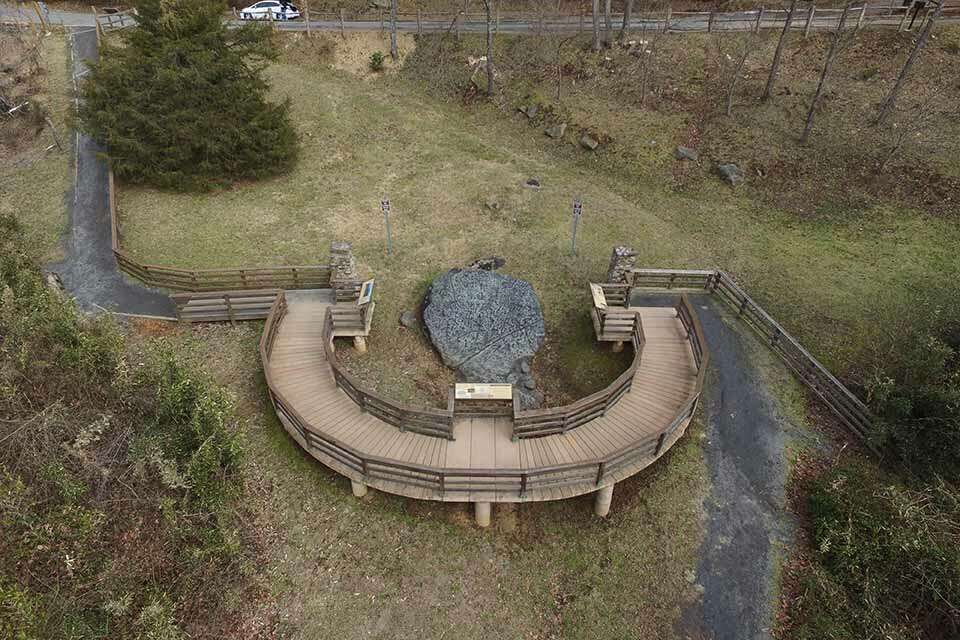 Inside the Nantahala National Forest of Jackson County is an interesting rock known as Judaculla Rock. This large soapstone is a historical landmark, that is also a Cherokee Cultural Heritage site. It contains a large number of petroglyphs that are believed to have been carved between 500 & 1700 A.D.. Judaculla Rock was placed on the National Register of Historic Places in 2013 and today is an easily accessed public site that is both interesting and educational.
Judaculla Rock is located at the end of Judaculla Road in the small community of Caney Fork, North Carolina. It is about 25 minutes off of the Great Smoky Mountains Expressway from the town of Sylva. As you travel down highway 107, there is good signage on the road directing you to the unpaved but well maintained Judaculla Road. The parking area is small but usually not a problem. There are no restroom facilities onsite or nearby. Judaculla Rock is about 45 minutes from Bryson City or 70 minutes from Asheville North Carolina.
The site for Judaculla Rock is very small, less than an acre in size, and is focused around the large and obvious boulder that is the star of the show. Don't let the small size of this location fool you, though. The site is well maintained, well designed, and full of informative plaques to tell you everything about this unique historical gem.
Before you even take the path down to the observation deck, be sure to read the first informative signboard to get a quick overview of the ancient and modern history of the rock. From there, you can take the wide path down to the rock. There are numerous additional sign boards that are all worth checking out including one that will tell you the story of Judaculla and who he was. The main attraction is Judaculla Rock which can be easily viewed from the deck that surrounds the rock.
There are approximately 1,548 designs carved into the rock, more than any other known boulder east of the Mississippi. It is really an interesting site to visit and one that you are sure to enjoy.
When you are done enjoying Judaculla Rock, be sure to check out many of the other great attractions in the area.