The enhanced overlook on the Blue Ridge Parkway that provides a secluded east facing view of the hills.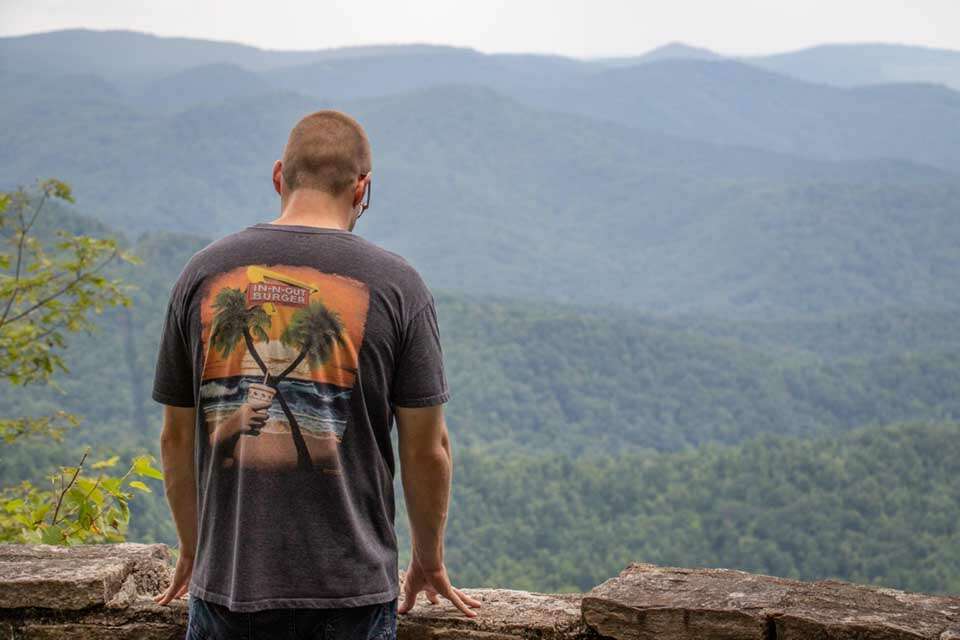 Just off the Blue Ridge Parkway on the southern edge of Ashe County in North Carolina is the enhanced parkway overlook known as Jumpinoff Rock. Initially this may look like most of the other overlooks on the parkway with a nice view and a few picnic tables but this spot has a short 1/2 mile kid friendly trail that leads to a better view that is generally less visited. It is a good location to visit on the Blue Ridge Parkway if you want a pleasant stroll through the woods along with a nice and quiet view.
Jumpinoff Rock overlook is located at milepost 260.3 on the Blue Ridge Parkway about 16 miles North of where the Parkway intersects Highway 421. Like all of the overlooks on the parkway there is always a sign indicating the name of the overlook. The parking area at Jumpinoff Rock is moderately sized and is more than adequate for most days. The Jumpinoff Rock Overlook is about 20 minutes from West Jefferson North Carolina or 30 minutes from Wilkesboro North Carolina. There are no restroom facilities at the overlook.
Jumpinoff Rock Overlook follows the same style and looks like most overlooks but it does have picnic tables on both ends of the overlook. It also serves as a brief host to the Mountains to Sea Trail, like many of the other overlooks, although this overlook has a little gem just a half mile down the trail.
Follow the few steps up and past the picnic table on the right side of the overlook. Although the hike has a mild ascent up the ridge it really isn't too bad and the walk through the woods to the lookout is very easy and pleasant. The trail is also in great shape and has white blazes to mark the way.
At about 3/4's of the way to the lookout the trail will start a slight descent. Shortly after this the trail will split with a short spur heading left to Jumpinoff Rock. There are also two white blazes to look for on a tree.
Take the trail to the left and in just about 50 feet you will be at Jumpinoff Rock.
It is a small overlook on top of a steep section of the ridge with a 180 degree east facing view. It is a nice peaceful spot in the forest that will likely be very quiet and feel very remote. If you are lucky you might even have the lookout to yourself as most people drive by and don't even know this place exists.
This is an out and back hike so when you have finished enjoying your time at Jumpinoff Rock, walk safely back to the parking area.