At 70ft, Lee Falls is one of the most picturesque waterfalls of South Carolina.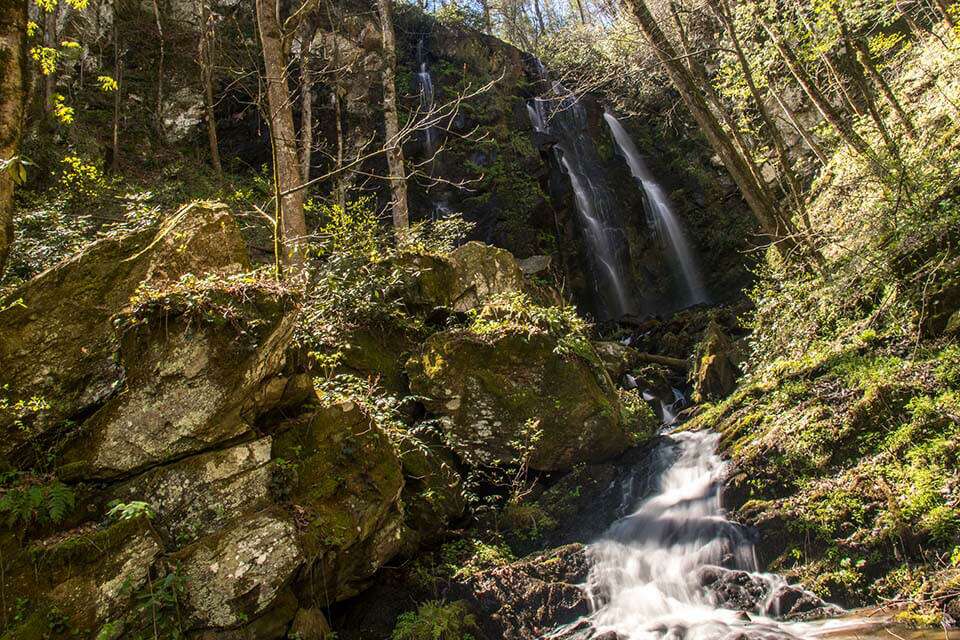 Deep inside Oconee County, South Carolina lies one of the most picturesque waterfalls in the state: Lee Falls. This 75 foot beauty is truly exceptional and is in a wonderfully remote and beautiful section of the Sumter National Forest that is very rugged, lush, and green. While you will likely get your feet wet getting there, it is worth every step of the moderate 3 mile round trip hike necessary to view Lee Falls.
The Sumter National Forest is one of only two national forests in the State of South Carolina. It consists of over 370,000 acres via several non-contiguous sections in Western South Carolina, North Carolina, and Georgia. It is the home to a number of rivers and waterfalls supporting activities like hiking, backpacking, canoeing, horseback riding, camping and fishing.
The trailhead to Lee Fall is located on the unpaved forest road FS 175A. About 5 miles or 10 minutes off highway 11. FS 175A is off Jumping Branch Road and is wide and easy to spot but don't get it confused with FS 175 that is 2/10's of a mile before the turn-off to FS 175A. Coming from Walhalla on Highway 11, you turn left on Cheeohee Valley Road for a little over 2 miles. Then turn left on Tamassee Knob Road and in about 1/2 a mile turn right on Jumping Branch Road. FS 175A will be on your left in about 1.5 miles. Drive about 1/2 a mile and look for a parking lot on your right just before you cross Tamassee Creek. The parking area is fairly good sized and should offer plenty of parking most days. There are no restroom facilities at the trailhead. Lee Falls is about 1 hour from Greenville South Carolina or about 1 hour 45 minutes from Asheville North Carolina.
The trail for Lee Falls starts in the far end of the parking lot just behind a gate. You will hike across three fields that, in the late summer, can become somewhat over grown. We went on our hike in the early spring and the fields were beautiful and pleasant to walk through. At the end of each of the first two fields there will be a small creek crossing to navigate. At the end of the third field, the trail enters the woods . The trail eventually follows Tamassee Creek up to the falls but for the first 3/10's of a mile after the field you are hiking through the woods. The trail is easy to follow but isn't reliably blazed. On our hike there were some ribbons tied to tree branches but you couldn't rely on the ribbons being there.
You will cross a few smaller creeks before ending up on the larger Tamassee Creek. The trail becomes looser at this point but follows the creek up stream to the falls. You will cross the creek several times as you hike the last bit of the trail up to the falls. It isn't too far but the trail will become noticeably more difficult as it gets rocky and more obstructed. You will approach on the left or south side of the creek up to some good viewing areas of Lee Falls.
Once you get to the falls, you will want to find a spot, relax and take in the beauty of Lee Falls. This magical spot in the forest has the perfect conditions for many mosses, ferns, and botanical interests. While the viewing area is sloped and very rocky, don't be surprised if you want to hang out for an extended period of time while you enjoy this South Carolina gem.
This is an out and back hike so hike safely back to the parking area when you have finished spending time at Lee Falls.