The 50 foot Melrose Falls is less known but just as beautiful as other falls in the area.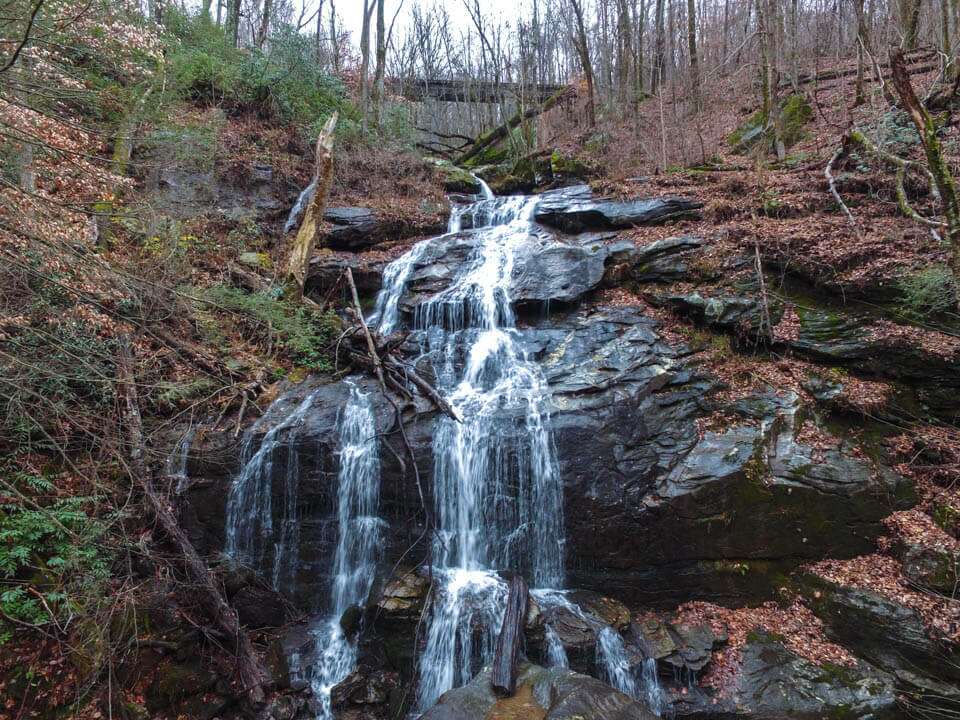 Just east of the town of Saluda North Carolina, is the less popular but very beautiful – Melrose Falls.  This is a large waterfall spanning multiple cascades that can be reached by a roundtrip hike of just under 1.5 miles. The land that the waterfall is on is owned and maintained by the Pacolet Area Conservancy, a group who has protected over 8,700 acres of land in the foothills of North Carolina and upstate South Carolina.  The Pacolet Area Conservancy provides and maintains public access to much of their lands including the area supporting Melrose Falls.
Coming from Saluda, the trailhead for Melrose Falls is located off highway 176 immediately between two bridges that cross the North Pacolet River. The trailhead is on the right and easy to spot, however there is only enough room for two cars to park. Luckily this area is filled with plenty of things to do so if you can't find a parking spot you can always head over to Pearson's Falls, just a short drive away. There are no restroom facilities at Melrose Falls.
The trailhead for Melrose Falls is located just past the boulders at the parking area. The trail starts at the hill and ascends for a short distance until you reach a fork in the path. Take the left fork and you will parallel North Pacolet River the remaining distance of the trail. If you were to continue straight at the fork, you would quickly reach the train tracks for the now defunct Saluda Grade. When in operation, this was the steepest grade standard gauge mainline railway in the United States.
Hiking towards Melrose Falls, the trail is easy to follow and relatively flat after the fork until you reach the end. There are two small creeks that the trail crosses so be prepared for a little rock-hopping, however if there hasn't been too much rain these creeks shouldn't be an issue. The hike is through a beautiful forest teaming with muscadine vines and after only 6 tenths of a mile the falls will come within earshot. When you reach the falls, there is a short but very steep decent to a rocky viewing area. This area has very sharp drop offs and may not be the best choice for families with small children. The rocky viewing area provides good views of the falls and the numerous cascades below it. When there is a good amount of water flow, it is a wonderfully loud area as the water torrents down the mountain falls.
Be sure to exercise extreme caution when you are viewing the falls as there are a number of exposed ledges.
This is an out and back hike, so hike out the way you came in to return to the trailhead.