A very short hike to a beautifully long waterfall in the Nantahala National Forest. Two viewing areas provide up close views of Mooney Falls.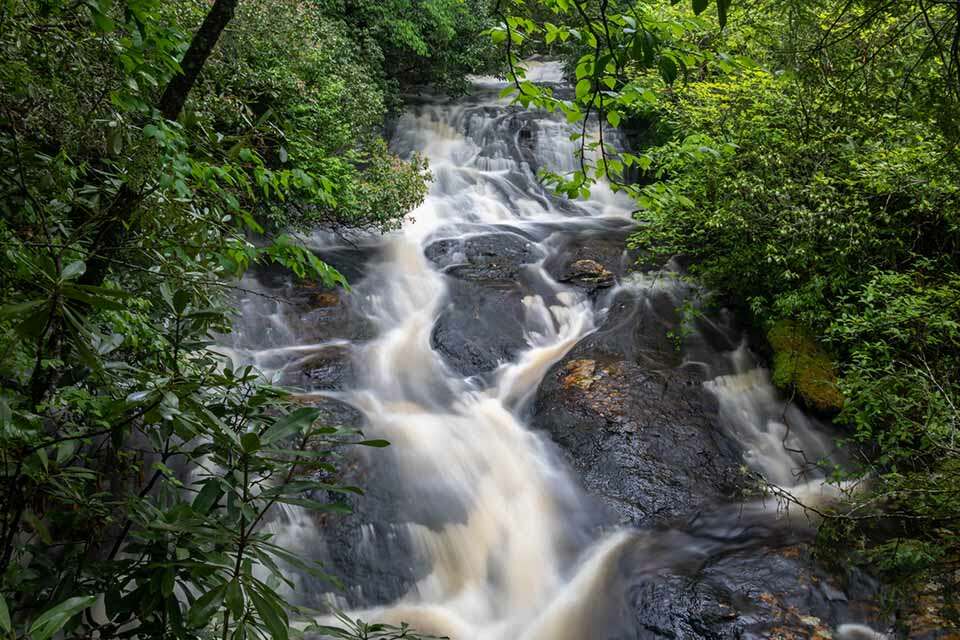 Inside the Nantahala National Forest, near Franklin North Carolina, is the impressive Mooney Falls. This larger waterfall, typically with good flow, is difficult to view in its entirety due its shape and length. It starts out as a long cascade in the thick forest before a final 15ft plunge at the bottom. The very short trail to Mooney Falls has two sections so that both the upper cascade and lower falls can be viewed.
The trailhead for Mooney Falls is located on the unpaved forest road FR67 near Standing Indian Campground. While the road is unpaved it is generally in good condition and accessible from most vehicles. The roads in this area are subject to seasonal restrictions and are usually closed during the winter months. You could approach from either Highway 23 to the east or Highway 64 to the west. Look for the marked pull-off on the side of FR67. Mooney Falls is about 60 minutes from Franklin North Carolina or Clayton Georgia. There are no restroom facilities at the trailhead.
The hike to Mooney Falls is very short and easy. The trail starts right in front of the sign and descends down a hill via a couple short switchbacks. Very quickly the trail forks where the left fork will take you to the upper cascade and the right fork will take you to the lower falls. We started with the upper section first heading left.
After about 100ft the trail ends at the river where the upper section of Mooney Falls is before you. There isn't much room and you are right on the creek so exercise caution; especially if you have kids with you. Remember that the lower falls are directly below this section. There is a large rock that you can climb on to get a better view. When you have finished enjoying the upper section head back to the fork and continue straight to the lower section.
This section is a little longer than the upper section and will switchback once before ending up back at the creek just below the lower falls. This area is still somewhat tight but has a little more room than the upper section. It is also very loud as you are right at the base of the waterfall. It is a great waterfall to visit.
After enjoying Mooney Falls, hike safely back up to the parking area.