An easy to reach modestly sized waterfall inside the Great Smoky Mountains National Park.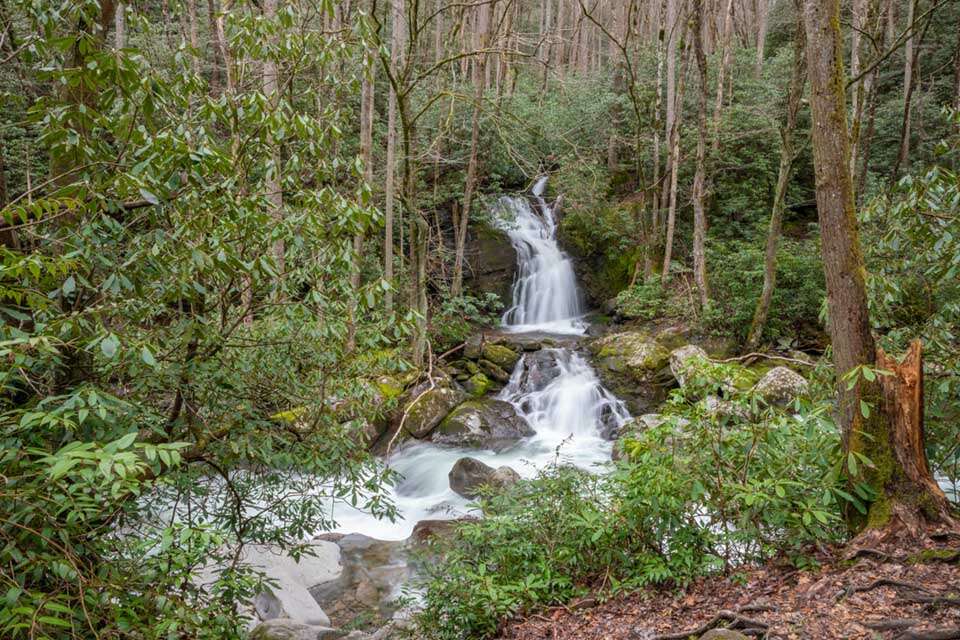 In the Big Creek section of the Great Smoky Mountains National Park, almost at the Tennessee boarder, is the pristine and very picturesque waterfall – Mouse Creek Falls. At just about 40 feet high, Mouse Creek Falls is only a moderately sized waterfall. However, the exceptional forest, crystal clear big creek, and ease of access make the moderate 4 mile hike to Mouse Creek well worth the effort and a spot everyone should visit at least once.
The trailhead to Mouse Creek Falls is located at the Big Creek Trailhead Parking area in Cataloochee North Carolina. It is right at the end of Big Creek Entrance Road which is typically reached from Inside Tennessee from exit 451 on Interstate 40. As you approach Big Creek Entrance Road, look for the large sign indicating the entrance to the park. The road leading back to the trail head is unpaved, and while it is generally in good shape, it is very narrow in some places and can be a challenge for cross traffic. Follow the road all the way back to a large parking area with restroom facilities. Big Creek is about an hour from Asheville North Carolina or Gatlinburg Tennessee.
The hike to Mouse Creek Falls uses the Big Creek Trail which was passed just before you entered the parking area. Walk back up the road and look for the marked trail on your left. The trail follows an old railroad path so it is very wide and never really too steep. It initially ascends slightly above Big Creek before descending back down and paralleling the creek the majority of the hike. It really is a beautiful walk through the forest and the constant sound of Big Creek in the background is quite soothing.
At about 1.5 miles you will pass by a summer swimming hole called Midnight Hole. it isn't marked but it fairly obvious as there is a small cascade between two large rocks with a giant crystal clear pool below it. In the warming months there will also be people enjoying the cool mountain water.
Continuing past Midnight Hole look for a hitching post on your left with a small trail leading to Big Creek. You should also be able to see Mouse Creek Falls on the opposite side of Big Creek. This is the viewing area for the falls. It is a clearing in the forest off the main trail with a clear view of the beautiful 40ft Mouse Creek Falls across the creek before it contributes its waters into Big Creek.
This is an out and back hike so hike safely back to the parking area when you have finished enjoying the falls. You could also hike another 2/10's of a mile down Big Creek Trail to a footbridge that crosses over the creek. It is a nice addition to the hike that provides great views of Big Creek.