Pretty Place is indeed a very pretty place. It is a beautiful Cliffside chapel that is located in the upstate of South Carolina that offers peace, serenity, and priceless views of the valley below.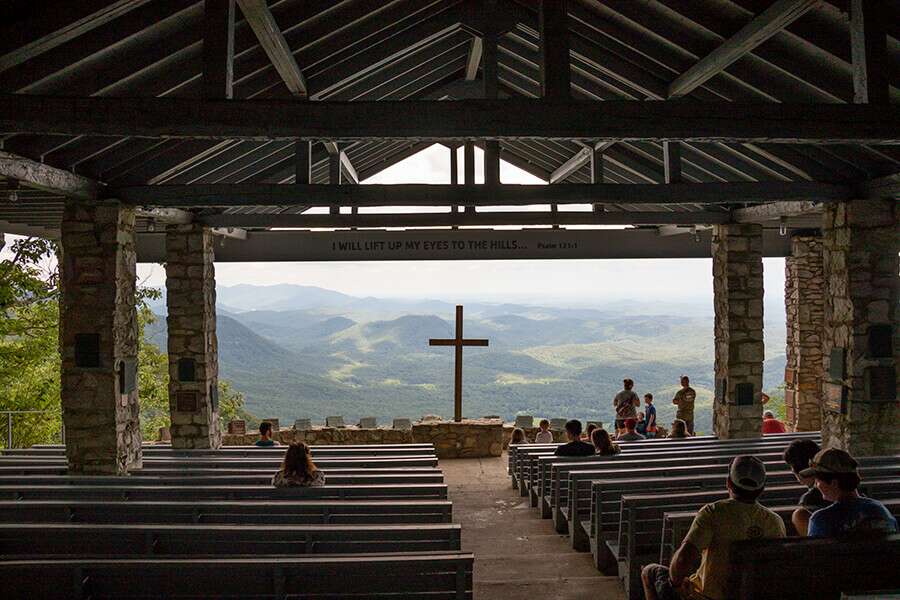 Sitting atop Cleveland Cliff in the Jones Gap State Park, is the beautiful outdoor chapel known as Pretty Place. It is a very peaceful setting that overlooks the Jones Gap Valley and beyond. Pretty Place is located on private property that is owned and managed by the YMCA Camp Greenville. However, when not used for a camp event or another reserved event, Pretty Place is open to the public from dawn to dusk.
Pretty Place is located at 100 YMCA Camp Rd in Cleveland South Carolina. Whether you approach from the North or South, the drive to Pretty Place is through beautiful country that only enhances your experience at Pretty Place. So take your time and enjoy the trip as well as the destination. There is adequate signage along the way and it is about an hour from Greenville South Carolina or Asheville North Carolina. There is plenty of parking available onsite as well.
Pretty Place is a popular spot and can be crowded during peak times. Also, as noted earlier, there are times when it will be booked for an event or used by the camp where it won't be open to the public. The best times to visit are usually Monday through Thursday. You can call or check their website for the schedule of events. Visit CampGreenville.org for more information.
Pretty Place was built in 1941 with several additions and improvements made over the years. However the fundamental attraction, the peace and serenity of Pretty Place, hasn't changed since the beginning of time. That being said, there isn't much more that can be said about Pretty Place other than you will enjoy it most if you come with plenty of time, and no expectations.