A beautiful 30ft kid friendly waterfall that is only about 300 yards from the road.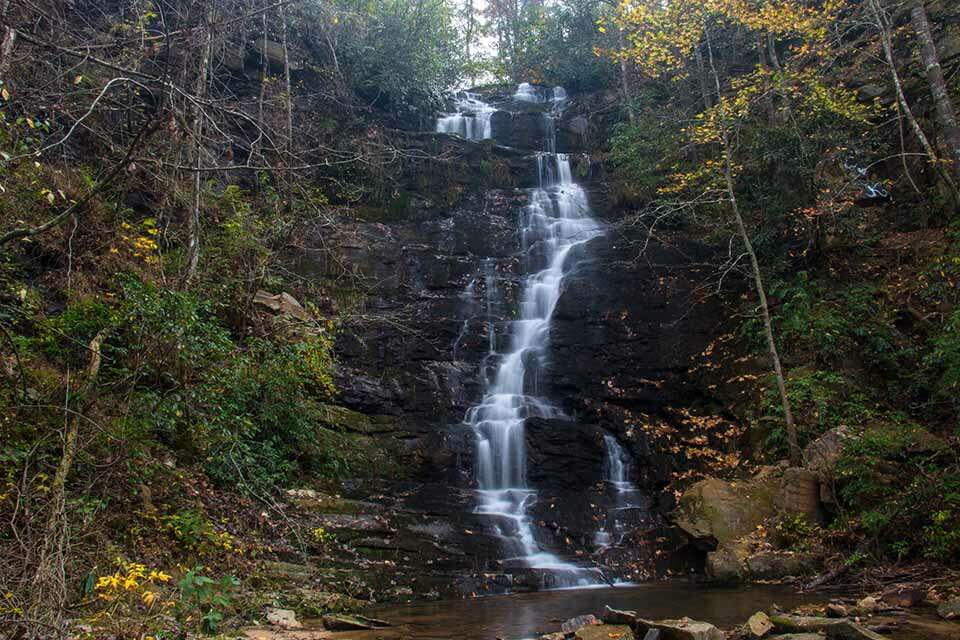 Just off Highway 76 in South Carolina, a few miles south of the Georgia border, is a beautiful and easy to reach waterfall – Reedy Branch Falls. This 30ft treasure is part of the Sumter National Forest and is only about 300 yards from the road on a wide and very easy to walk trail through the woods. It is in a beautiful section of Oconee County with plenty of other close attractions to check out as well.
The trailhead for Reedy Branch Falls is located on US Highway 76 about 2 miles south of the Georgia border or 16 miles north of Westminster, South Carolina. If you approach from the South, the pull off is on the left just past Chattooga Ridge Road. The pull off area isn't small but it isn't too big either. There is maybe room for about six vehicles. If it gets crowded, make sure you leave enough room for others to get out. Reedy Branch Falls is about 45 minutes from Franklin, North Carolina, 90 minutes from Greenville South Carolina, or about 2 hours from the Atlanta area. There are no restroom facilities at Reedy Branch Falls.
The trail to the falls starts between the two stone pillars. Before the Forest Service acquired the land, this area was in the process of being developed for home sites. Some items from the development, like the stone pillars, still remain.
The trail is very wide and casually descends through the forest down to the Reedy Branch. It is only about 1/10'th of a mile until you reach the creek and the trail turns left where you are only about 100 yards from the falls. Follow the path up the creek where you cross over and end up at the base of Reedy Branch Falls where there is a spacious area to view the falls.
Since you end up at the base of the falls with this hike, Reedy Branch Falls is a little more kid friendly than some other places. There aren't any exposed cliffs to worry about and the pool at the base of the falls is usually just deep enough to get your feet wet. Whether you bring the kids or not, Reedy Branch falls is a perfect destination for an afternoon picnic.
This is an out and back hike, so when you have finished enjoying Reedy Branch Falls hike safely back to the parking area.