A beautiful multi-tiered waterfall that is not too far off the road. It is, however, a steep trail down to the falls.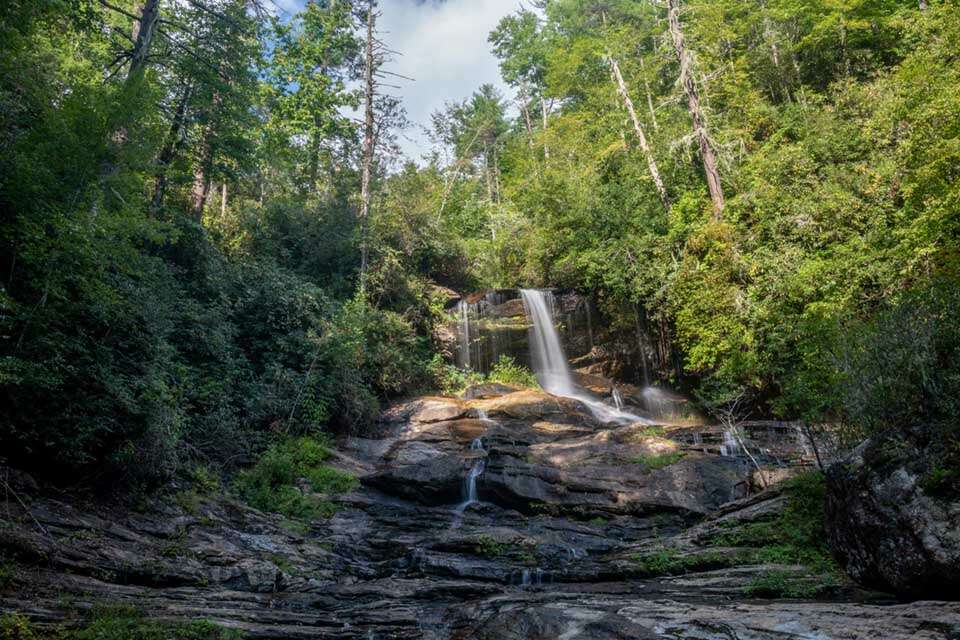 Deep in the North Carolina forest, inside the Nantahala National Forest, is a hidden waterfall gem called Scotsman Falls. At about 50 feet in height, Scotsman Falls is a mix of a freefall upper section with a long cascade on the lower section of the falls. While this beauty is very close to the road, maybe only 1/10th of a mile, the trail leading down to the falls is very steep and not for everyone. The very last section can also be somewhat muddy at times. If you are up for a small challenge, you will be rewarded greatly with a very scenic waterfall and the gorgeous Scotsman Creek.
The trailhead to Scotsman Falls is located on Bull Pen Rd which is on the outskirts to the east of Highlands North Carolina. The parking area, if you want to call it that, is more of a pull off on the side of the road. To make matters even more difficult, neither the parking area or trailhead is marked. If you approach from the east, the pull off is about 4 miles from Highway 107 just as the road turns right after a hairpin left turn. If you approach from the west, the trailhead is about 1 mile past the old iron bridge that crosses the Chattooga River. Scotsman Falls is about 30 minutes from Highlands North Carolina or about an hour from Brevard North Carolina. There are no restroom facilities at the parking area.
The trail down to the falls, as mentioned earlier, is very steep. It is also somewhat faint as this trail doesn't receive a lot of traffic. It starts about 100ft west of the pull off on the downhill side of the road. Look for an obvious trail that immediately starts descending the hill.
Once you are on the trail is should be fairly easy to follow as it quickly gets you down the ridge. There may also be some fallen trees to overcome on the descent. The trail will get interesting right at the end as it gets even steeper and can be muddy. Work your way down the last bit and onto the rocky riverside to enjoy Scotsman Falls.
The Falls is located at a beautiful spot on the creek which usually has a lot of space available to relax and enjoy the wonderful setting. The creek continues into the forest about another 1/4 of a mile before joining the much larger Chattooga River which flows down to form the border between Georgia and South Carolina. Enjoy this magical spot as you will likely have the falls all to yourself!
This is an out and back hike so hike safely back up the ridge to the parking area when you have finished.