An easy hike to a wonderful waterfall that starts at the beautiful South Toe River.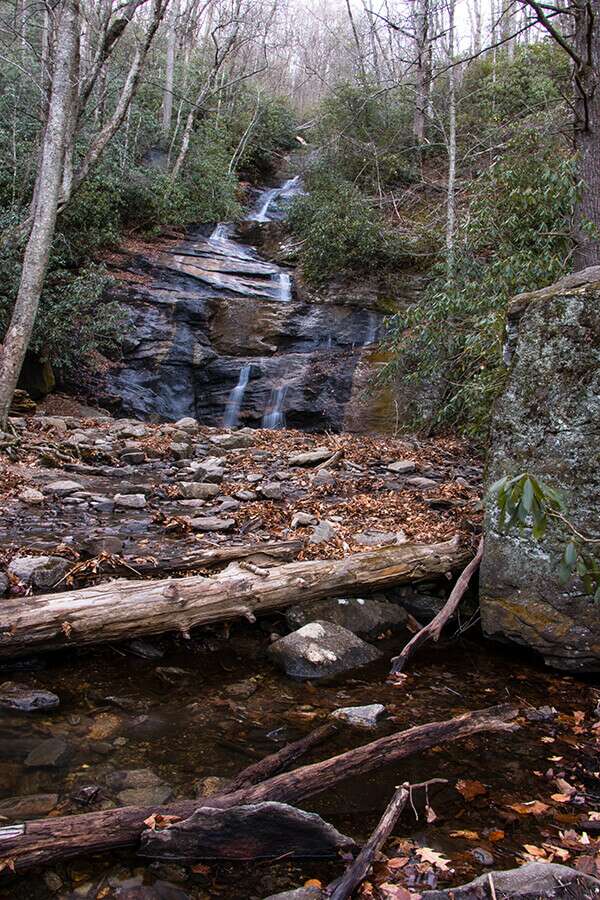 In the northern section of the Pisgah National Forest just north of the Blue Ridge Parkway and minutes from Roaring Fork Falls is the beautiful Setrock Creek Falls. Located next to the Black Mountain Campground in Burnsville North Carolina, this pearl of a waterfall is an easy 1/2 mile walk through a gorgeous North Carolina mountain forest.
The trailhead for Setrock Creek Falls is located off South Toe River Road right next to the Black Mountain Campground. It is just a couple of miles north of the Blue Ridge Parkway off Highway 80. As you turn off Highway 80 onto South Toe River Road, follow the signs to the campground. At about halfway, the road becomes unpaved but it is in good shape and you should have no problem traveling on it. There is a fork as the road goes right and you will want to stay on the main road to the right. When you reach the campground, you can park on the left just outside the campground facilities. There are restroom facilities at the campground but the facilities are not open year-round so plan accordingly. There is also an informative signboard by the parking lot.
The trailhead is about 60 minutes from Asheville North Carolina, 75 minutes from Hickory North Carolina, or 90 minutes from Johnson City Tennessee.
To reach the trailhead, walk across the bridge into the campground and bear left following the road that parallels the South Toe River. Look for the trailhead markers for the Mount Mitchell, Briar Bottom, and River Loops trails and follow this trail as it continues to parallel the river. Take the second trail that breaks off to the right that is marked Setrock Creek Falls. This trail is marked with white blazes and, after crossing a camp road and a short incline, will take you to the base of Setrock Creek Falls.
The viewing area for the falls is wide open with a shallow pool of cool clear mountain water at the base. This is a great spot to bring the kids or have a picnic. The total height of the falls is about 75 feet and the flow of this waterfall will vary greatly depending on the amount of recent rain. Regardless of the flow, this is a nice area to relax at while you watch and listen as the water works its way down the cracks and crevices of exposed rock face. It is very beautiful.
This is an out and back hike so when you are done enjoying Setrock Creek Falls, hike safely back to the parking area.