A beautiful roadside waterfall that flows under a 1930's era stone bridge. Very scenic!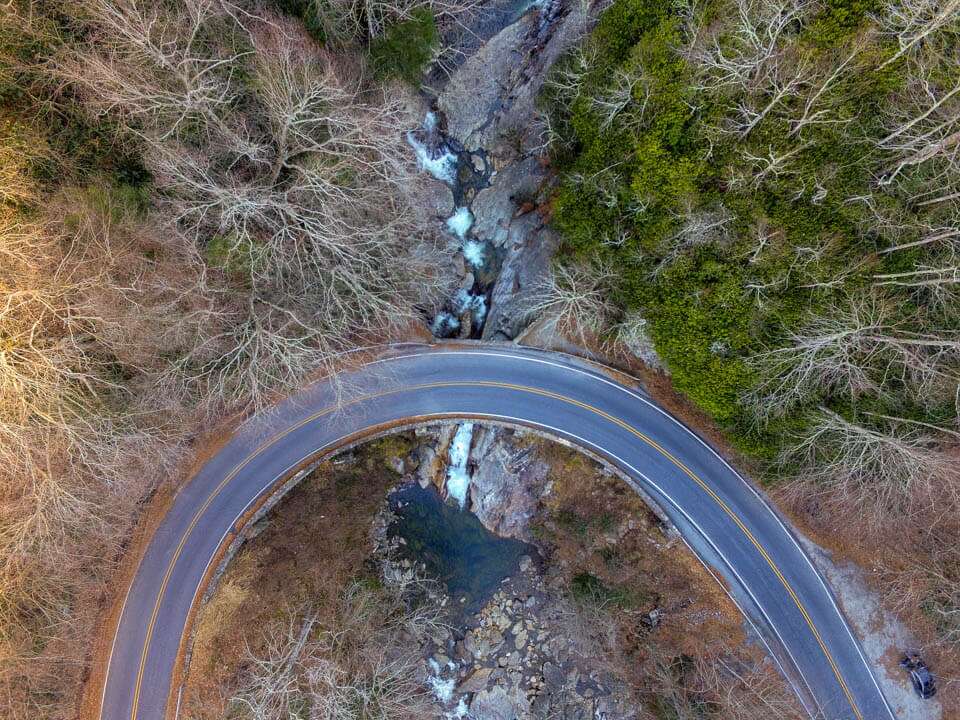 Just off Highway 215, in the Northern Pisgah National Forest, as it crosses over the west fork of the Pigeon River is the beautiful roadside waterfall – Sunburst Falls. This wonderful series of cascades starts just upstream from the old stone bridge and continues underneath to a large pool before continuing on to even more cascades as the West Fork of the Pigeon River works its way down the mountain. It is a wonderfully loud area from the numerous cascades on the river; most of which are viewable from the roadside.
Sunburst Falls is located on Highway 215 just over 4 miles North of the Blue Ridge Parkway. As you travel on Highway 215 from the Blue Ridge Parkway, it is just past the left hairpin turn as your cross over the 1930's era stone arch bridge that curves to the right. There is a small parking area just past the bridge on the left. Sunburst Falls is located about 50 minutes from Brevard North Carolina or about 60 minutes from Asheville North Carolina. There are no restroom facilities onsite.
There isn't a trail for Sunburst Falls as it is viewable right there from the roadside. There are viewing areas on the upstream sides of the bridge, however you do need to be very careful as you walk up to them. A lot of cars come through this area too fast and some drivers are distracted by the falls. So please be very careful!
The viewing areas are also more like spaces on the bridge as they don't have rails or any sort of protective walls. They do provide adequate space to look upstream and even setup a camera tripod if you want to. You just need to be careful and mindful of cars as they drive by.
If you want to get a view of Sunburst Falls from the downstream side of the bridge, you can either carefully walk around on the road or there is a steep trail just across the street from the parking area that will bring you down to the river. Once you are at the river, you can boulder hop and find yourself the perfect spot to enjoy the view of Sunburst Falls or take that perfect picture.
Wherever you choose to enjoy Sunburst Falls, you are going to thoroughly enjoy this roadside gem in the Pisgah National Forest.
Watch for traffic as you pull away from the parking area.