Two of the most picturesque waterfalls in South Carolina with an easy walk.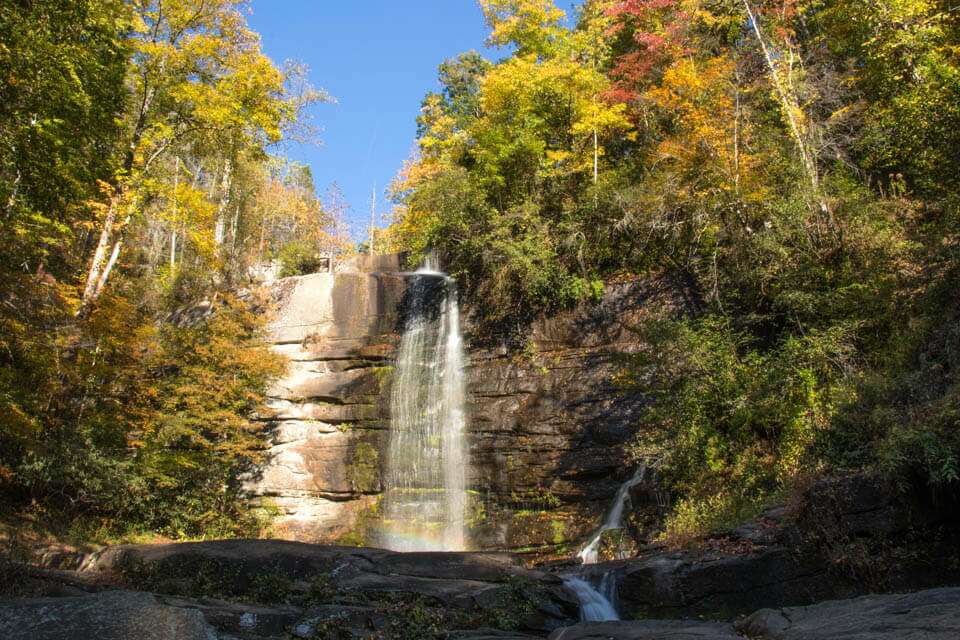 Located in the Jocassee Gorge Wilderness Area of South Carolina, Just north of Pickens, is the beautiful Twin Falls. It is one of the most picturesque waterfalls in South Carolina and, as the name suggests, consists of two waterfalls that form as Reedy Cove Creek splits as it flows over a rocky cliff. It is an easy quarter of a mile hike, with very little elevation change, to an observation deck that provides a great viewing spot for the falls.
The trailhead to Twin Fall is located at the end of Water Falls Road in Sunset South Carolina. It is a beautiful drive getting there and very easy to find as it is only about 3 miles off highway 178 in between highway 11 and the North Carolina border. From Highway 178, turn onto Cleo Chapman Hwy and follow it until the road T's. Go right and then look for Water Falls Road which will be your first right after the T. Water Falls Road is narrow and it might look like a driveway but it is indeed the road to the falls.
The parking area is limited and can get full on crowded days. Your best bet is to arrive early and beat the crowds. There are no restroom facilities onsite. The trail to Twin Falls passes through a private nature preserve and is open to the public from dawn to dusk.
The trail to the falls starts at the end of the parking lot behind the gate. It is short, only about a 1/4 of a mile, and it parallels Reedy Cove Creek the entire way. The trail is very nicely maintained and has spots for easy creek access if you want to dip your toes in the water. It won't take long until you reach a wooden ramp that takes you to the large observation deck for the best viewing the falls. The view from the deck is perfect and provides a great spot to sit, relax and enjoy the view the falls.
The waterfall on the left descends an impressive 75 ft over the large stone cliff. You might catch a rainbow in the waters mist on a nice Sunny day. The waterfall on the right is more of a series of cascades and may even break into multiple streams as the water works its way down the slope. It is a beautiful sight and definitely worth checking out.
Note that it is possible to walk closer to the falls if you want to. Just be mindful of the wet slippery rocks and be careful!
This is an out and back hike so head back to the parking area when you are done enjoying twin falls.