An easy to reach North Carolina waterfall at the end of a nice family friendly 1/2 mile hike.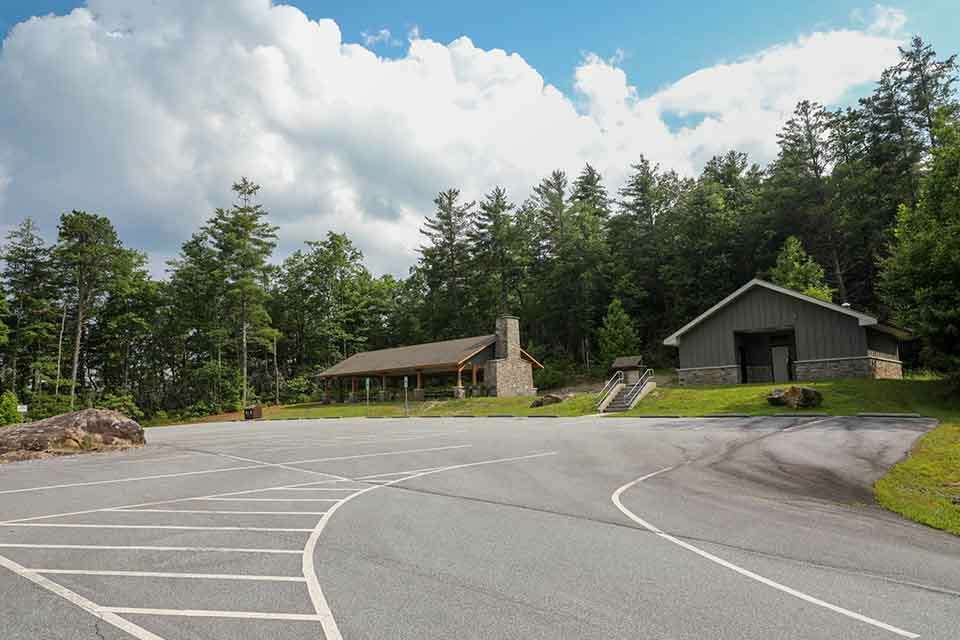 Inside Gorges State Park of North Carolina is the short hike to the overlook for Upper Bearwallow Falls. At just about 1/2 a mile, one way, the hike to view the falls is just a moderate walk through the forest and is well worth the effort. The view of the falls is nice but you also get a good view of a steep section of the gorge where Bearwallow Creek is expediting its descent through the park before contributing its waters to Toxaway River. This kid-friendly hike is one not to miss if you are visiting Gorges State Park.
The trailhead to Upper Bearwallow Falls begins inside Gorges State Park at the Bearwallow and White
Pines Picnic area; about 2 miles past the entrance on Grassy Ridge Road on the north side of the loop. Gorges State Park is just off Highway 281 about 1 mile south of Highway 64 between Lake Toxaway and Sapphire North Carolina. It is about 75 minutes from Asheville North Carolina or 90 minutes from Greenville South Carolina. The parking area is very large so you should have no problem finding a parking spot. There are also nice restroom facilities at the visitors center and at the trailhead parking area.
The signed trail starts at the opposite side of the restrooms next to the informative signboard. The trail is marked with blue blazes, it is extremely easy to follow, and it is very nicely constructed and
maintained. You will walk downhill to the overlook and uphill back to the parking area. As you start the hike you quickly encounter and cross the park road, Grassy Ridge Road. After crossing the road the trail will steadily descend down the ridge through a series of long switchbacks. At about the
halfway point there is a bench you can rest on if needed. The trail is quite pleasant and is a very nice
walk through the forest.
At about 1/2 mile you reach the observation deck; a nicely constructed overlook with plenty of room and an informative signboard. Upper Bearwallow Falls sits just across the ridge. The observation deck is situated almost level with the falls. It provides a great view and is a nice place to sit back, relax and
enjoy another one of North Carolina's wonderful waterfalls.
This is an out and back hike so hike safely back to the parking area when you have finished enjoying the falls.