A short but well formed waterfall in Western North Carolina that is just a short distance from the road.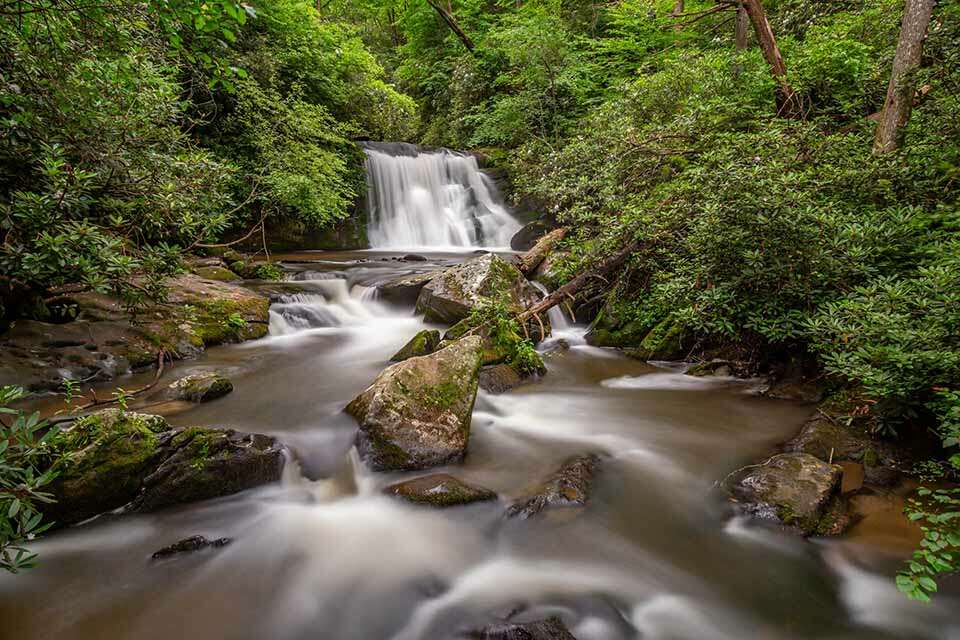 Located in the far western side of North Carolina, surrounded by the Nantahala National Forest, is the short but beautiful waterfall known as Yellow Creek Falls. While it is surrounded on all sides by the National Forest the land is actually owned by the National Wild Turkey Federation but is open to the public and has a very nice and well maintained trail leading to the falls. The easy hike to the falls is only about 1/2 a mile with very little elevation gain.
The trailhead for Yellow Creek Falls is located in Robbinsville North Carolina off Highway 129 or Tapoco Road. It is about 11 miles North of Robbinsville or about 7 miles from the Tennessee border. The mid-sized parking area isn't marked very well but is fairly easy to spot on the side of the road. Look for the informative signboard that is right at the trailhead. Yellow Creek Falls is about 90 minutes from Knoxville Tennessee or about 2 hours from Asheville North Carolina. There are no restroom facilities onsite.
The trailhead starts next to the signboard in the center of the parking area; which you should checkout before starting your hike. When you are ready to start, follow the trail into the woods. You will be paralleling Yellow Creek the entire walk up to the falls.
Most of the hike will have a slight incline with a few stairs and steps built into the trail. None of it is really too difficult and the walk through the forest is quite nice. A few spots along the trail will provide some nice views of the creek too. When you reach a nicely constructed foot bridge and stairs, you are almost there. Shortly after the bridge the trail will descend a short distance down to the falls. You should be able to hear the waterfall in the distance.
The obvious viewing area when you arrive is atop a large boulder that is just downstream from the falls. There isn't a lot of room on top of the boulder so if there are other people there you might have to wait for that view. You can, however, walk a little upstream for a little more room and you will be closer to the falls.
Yellow Creek Falls isn't too high, maybe 15 ft, but it usually has good flow and it definitely has great form. It is almost a perfectly shaped waterfall with some beautiful cascades just below the falls. It is a great spot for some pictures or just to hang out and relax.
This is an out and back hike so when you have finished enjoying Yellow Creek Falls, hike safely back to the parking area.