A moderate walk around the base of the park landmark peak, Pilot Mountain.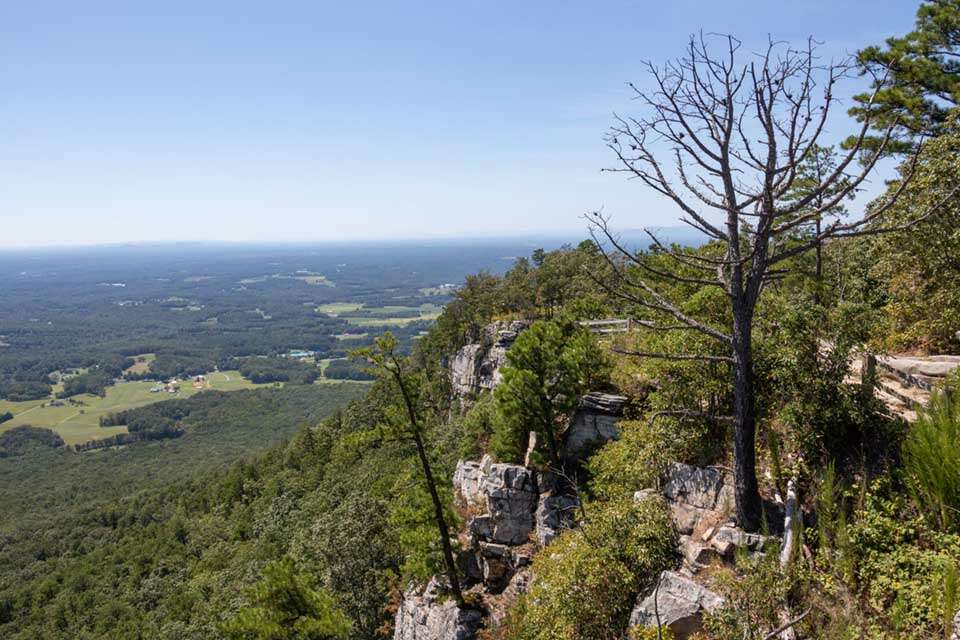 The very recognizable Pilot Mountain is the namesake peak of the North Carolina Pilot Mountain State Park. While the park is packed with numerous trails you can enjoy, one trail in particular, the Jomeokee Trail, provides a unique perspective of Pilot Mountain as it makes a loop around the base of the knob. This moderate hike of only about 1 mile features both impressive cliffs and views as you explore the interesting features around this unique mountain.
The closest parking area to access the Jomeokee Trail is located at the end of Pilot Knob Park Road in the town of Pinnacle North Carolina. Pilot Knob Park Road is the main road through the upper mountain section of the park and the parking area is located at the end of this road. You take it all the way up to the large and obvious parking area near the top of Little Pinnacle Peak. This parking area serves a lot of different trails and interests and can be in high demand on popular days. However, it is usually sufficient as the area is quite large. There are restroom facilities at the parking area as well as several informative signboards and walkup overlooks. Pilot Mountain State Park is about 20 minutes from Winston-Salem North Carolina, 60 minutes from Greensboro North Carolina, or 90 minutes from Charlotte North Carolina.
The Jomeokee Trailhead is located off the main paved sidewalk that departs the parking area. Follow the side walk back about 450 feet to the signed trailhead on the right. Once you arrive at the trailhead, the hike is only 8/10's of a mile around the peak.
The trail will initially descend a little while you work your way across the saddle from Little Pinnacle to Big Pinnacle. After leveling off it will then ascend slightly and form the loop as you get to the base of the mountain. You can go either way once you hit the fork that forms the loop but most people go right.
After the fork, the trail ascends a little more as you get closer to the mountain. The trail will generally stay fairly close to the cliffs that form the steep and recognizable feature of the peak. From here the trail will undulate as you meander around the mountain. During your walk there will be countless views of both the steep cliffs and far reaching views that stretch far off into the distance.
As the trail makes its way back to the start of the loop, look for the fork that takes you back across the gap and up to the trailhead to complete your hike of the Jomeokee Trail. Be sure to check out the other great hikes located inside Pilot Mountain State Park.