An easy walk to one of the best views of the parks namesake peak: Pilot Mountain.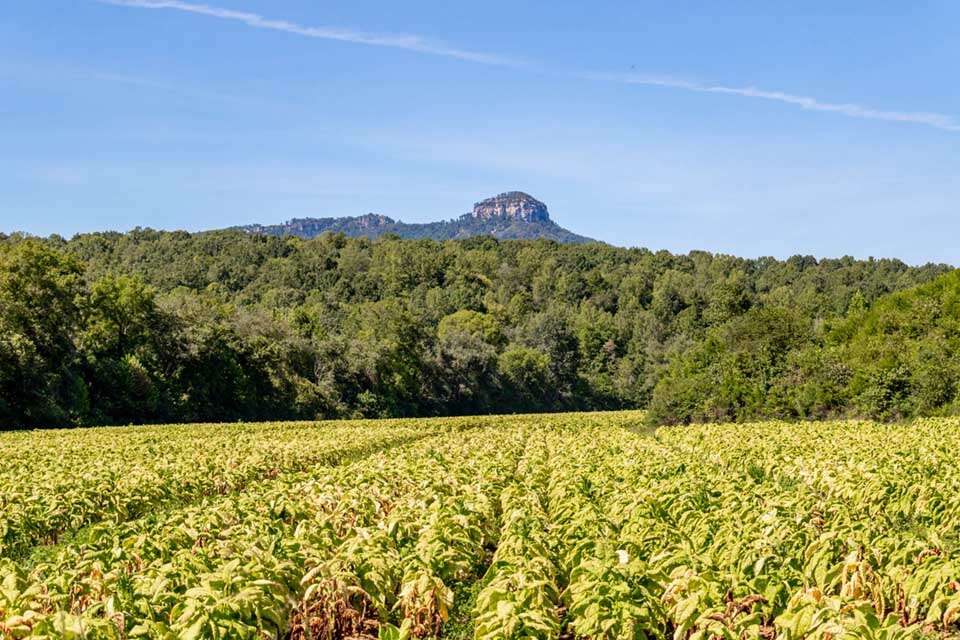 Located at the core of the iconic Pilot Mountain State Park is the Little Pinnacle Overlook Trail which provides picture perfect views of the parks namesake attraction – Pilot Mountain. For anyone visiting the park this is a must see spot that you should experience and check out at least once. However, the easy 1/10 of a mile hike to the overlook, and exceptional views offered, will make you want to visit this spot every time you come to Pilot Mountain State Park.
The parking area to access the Little Pinnacle Overlook Trail is located inside the park at the end of Pilot Knob Park Road in Pinnacle North Carolina. This is the main road that travels through the upper, mountain section of the park. Take this road all the way up to the extremely large parking area near the top of Little Pinnacle Peak. There is usually plenty of parking available as the lot is large and serves numerous trailheads and interests. There are also nice restroom facilities, a walkup overlook that looks to the south, and numerous informative signboards. Pilot Mountain State Park is about 20 minutes from Winston-Salem North Carolina, 60 minutes from Greensboro North Carolina, or 90 minutes from Charlotte North Carolina.
The trailhead for the Little Pinnacle Overlook Trail is off the main paved sidewalk from the parking area. Follow the sidewalk back about 300 feet and the signed trail will be to your right. Once you make it to the sign, you are about halfway through the hike. It isn't very long at all.
Follow the unpaved trail as it slightly ascends to the main overlook. Although this trail is very short, it is big on views and there are plenty of them to be enjoyed before reaching the main view of Pilot Mountain at the end of the trail.
Once you reach the end of the trail and arrive at the overlook, you are rewarded for your minimal effort with huge views of the unmistakable Pilot Mountain which can also be called Big Pinnacle, Pilot Knob, or just "The Knob". The view is more than just Pilot Mountain though. On a clear day you can also see all the way to Hanging Rock which should be just to the left way off in the distance. The parks website claims that you can view 3,000 square miles from this point and we believe them. The view from Little Pinnacle Overlook Trail is simply amazing!
This is an out and back hike so when you have finished enjoying the view, hike safely back to the parking area. You might also consider one of the other hikes that start nearby. The Jomeokee Trail loops around the base of Pilot Mountain and starts just to the right as you exit the Little Pinnacle Overlook Trail.