If you've ever wondered who put the "pink" and "floyd" in the band name Pink Floyd, look no further. Formed in London in 1965, Pink Floyd was one of the first British psychedelic bands. Cited by many as the greatest in the progressive genre, they were revered for their thought provoking lyrics, musical experimentation, engrossing live shows, and extended compositions that take you on a philosophical journey.
Former front man Syd Barrett created the band's name by combining the names of finger-pickin' guitarists and blues singers Pinkney "Pink" Anderson and Floyd Council. The band had lived through several incarnations, but settled on a name that called to the souls of two bluesmen who gifted the world with the southern essence of the Carolinas. So get comfy on your moonlit porch, grab a glass of sweet tea, or some moonshine if you're feeling bold, and let's dip into the lives and careers of Pink and Floyd.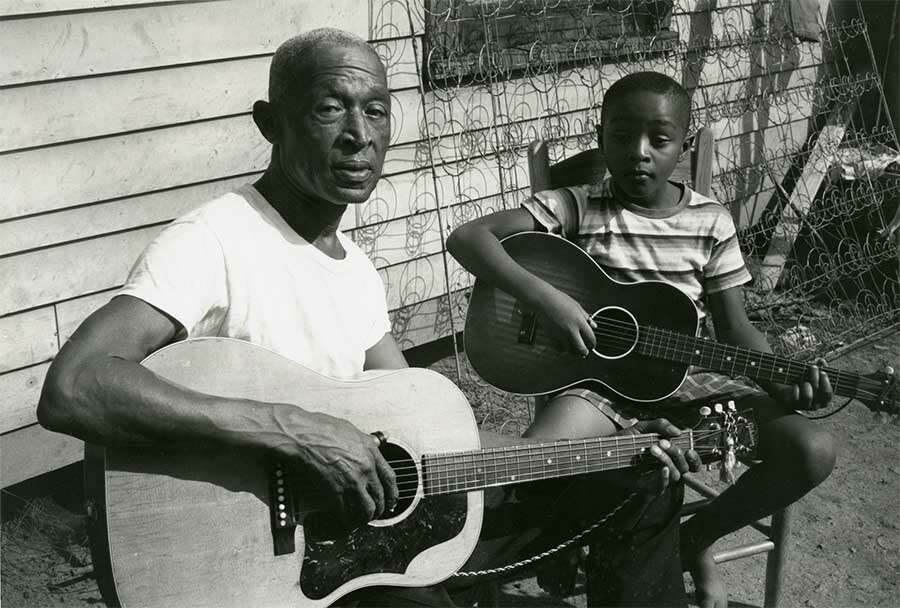 The Pink in Pink Floyd
Pink Anderson was born in Laurens, South Carolina, and raised in Greenville and Spartanburg. Pink spent most of his life working as a traveling entertainer in the medicine shows that toured the south. Wondering what a medicine show was? You're probably not alone. Medicine shows were touring acts with the intent of peddling "miracle cure" patent medicines (a.k.a. "snake oil") and other products while sweetening the soul with entertainment between sales pitches. They were common in the United States in the nineteenth century, particularly the Old West, and included a mixed bag of "freak shows," flea circuses, musical acts, magic tricks, comedians, musclemen, dancers, acrobats, ventriloquists, and/or storytellers.
In 1914, at the young age of 14, Pink entertained the crowds with a tasty set of bluesy tunes while Dr. William R. Kerr of the Indian Remedy Company tried to sell his medicinal concoctions. In the Spartanburg area, he worked with Blind Simmie Dooley, joining him in the studio in 1928 for the Columbia label. Pink ventured over into Leo "Chief Thundercloud' Kahdot's medicine show, pairing his talents with harmonica player Arthur "Peg Leg Sam" Jackson, who hailed from Jonesville, South Carolina and acquired his nickname after an accident while hoboing in 1930.
A decade after folklorist Paul Clayton recorded Anderson at the Virginia State Fair in 1950, Pink recorded an album of his own and performed at some local venues. He made an appearance in the film, The Bluesman, not long before reducing his activities due to a stroke in the late 1960s.
Take an audible dip into Anderson's bluesy craft through any one of his albums: Carolina Blues Man, Medicine Show Man, Ballad & Folksinger, Carolina Medicine Show Hokum & Blues, and American Street Songs (with Reverend Gary Davis).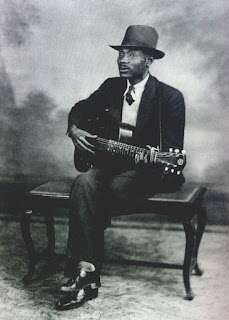 The Floyd in Pink Floyd
Born and raised in Chapel Hill, North Carolina, Floyd Council became a practitioner of the Piedmont blues, a particular fingerpicking guitar approach differentiated from other styles by its ragtime rhythms. On the streets of Chapel Hill in the 1920s, he performed with brothers Leo and Thomas Strowd, as the Chapel Hillbillies. He was promoted as "The Devil's Daddy-in-Law" while entertaining listeners around town with Blind Boy Fuller, who was one of the most popular of the recorded Piedmont blues artists. Along with Fuller in the mid-1930s, Council recorded twice for ARC. Like Anderson, Council suffered a stroke in the late 1960s, which partially paralyzed his throat muscles and slowed his motor skills causing him to never regain his vocal and guitar playing abilities.
You can hear Council's talents on the CD Carolina Blues, which features six songs by Floyd: "I'm Grievin' and I'm Worryin'", "I Don't Want No Hungry Woman", "Lookin' for my Baby", "Poor and Ain't Got a Dime", "Runaway Man Blues", and "Working Man Blues".