Today, May 4th 2020, we published a video on our YouTube channel that is a bit of a departure from our normal format. It is an informative video of sorts; kind of like a "How it's made" video. And if you couldn't guess by the title, yes, it does have something to do with the North Carolina wine industry. It is a video about the bottling of wine. More specifically, the mobile bottling process that occurs at many, but not all, of the wineries in North Carolina. Why produce a video about the bottling of wine? Why not? It is something to see (or do) in the Carolinas if you get the chance.
Why Not Produce a Video About the Bottling of Wine?
For starters, have you ever been to a North Carolina winery? Most of them are exceptionally beautiful places that weave themselves into the existing natural beauty of the state. There is also so much more than just the scenery, there's the wine and we think is really good. Wineries and Vineyards have been in the Carolinas so long, they're really no longer a "new thing" in either state. We go into some more detail in the video but the wine industry in North Carolina is made up of many small businesses that have a large impact on agricultural business making wine in the Carolinas "big business". Big like 2 billion dollars and over 1 million cases of wine annually! Those are big numbers! While that may seem like a lot of wine, North Carolina is actually only the 11th largest producer of wine in the US. We do, however, have some firsts in the industry: Duplin winery in Rose Hill, NC is the worlds largest producer of muscadine wine and the winery at the Biltmore Estate is the most visited winery in America. All of the wineries in the state are serious about their craft and strive to make wines that compete on a grand scale both domestically and internationally. So if you haven't tried North Carolina wines lately, then you really haven't tried them and you should remedy that as soon as possible, if not immediately. The wineries in the Carolinas are beautiful places to visit so when we had an opportunity to capture a bottling event, we jumped at the chance! If you are lucky enough to spend some time in North or South Carolina you should search the map to find your closest winery and spend the afternoon enjoying a local tasting.
So, back to our original question, "why not"? Why not create an informative video and add it to our library of things to see and do in the Carolinas? We couldn't think of a reason not to. So while it's not a local hike, it is a local point of interest and we hope you will support one of these small businesses when you have the first opportunity.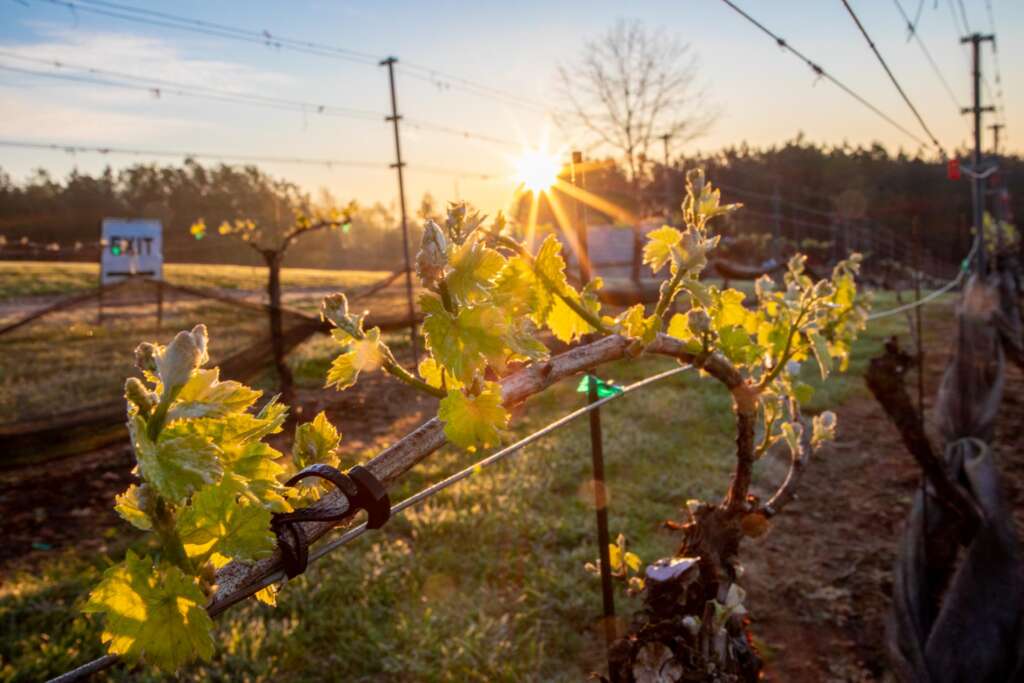 An Early Start to a Long Day…
Our day started out early and we got to see the sun rise over the vineyard which was a nice treat. We visited one of the wineries located in the Tryon Foothills, Mountain Brook Vineyards. This area has a cluster of four wineries and are the closest wineries to our hometown. We really had no idea what to expect on this trip but the staff at the winery were super friendly and helped make us feel right at home. They also gave us unbelievable access to film anything and everything we wanted. The wine maker, Tim Crowe, explained everything going on and helped us with the details in coming up with the script for the video.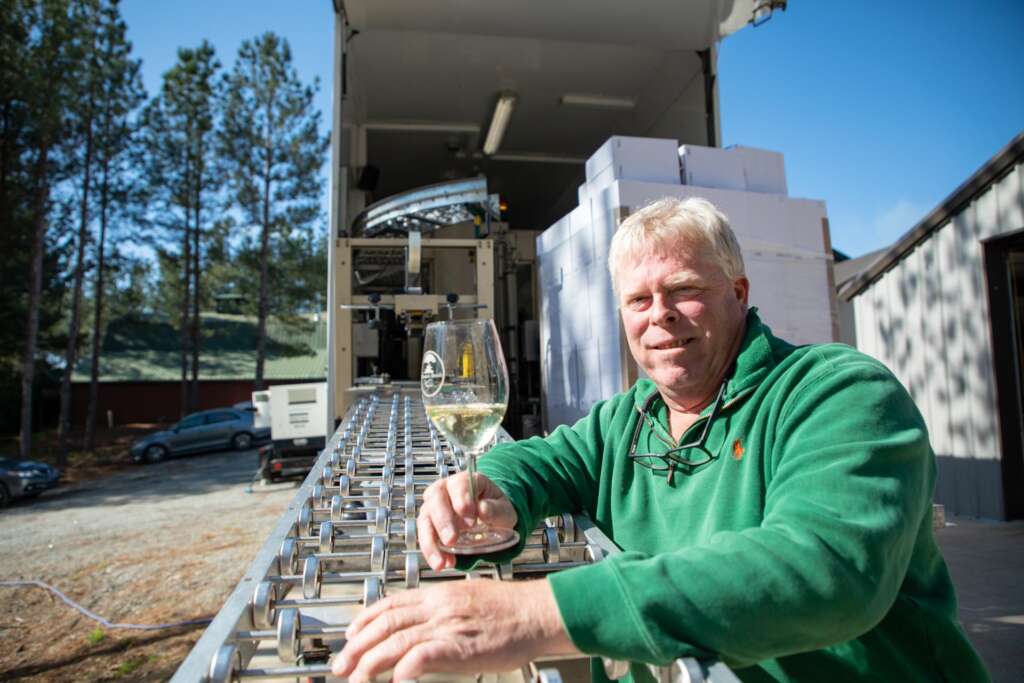 The bottling process was amazing and it was so neat seeing everything that goes into producing a bottle of wine. There is SOOO much work behind the scenes! As consumers, many times we are disconnected from the countless hours of work that goes into creating the products that we love and enjoy. Wine is no different. The bottling process is the final exciting step before the product makes it to the consumer. It may have taken years to get to this point when you factor in the growing and aging process of the wines. It was very exciting to be a part of this process and even more exciting to capture it all on video and be able to share it with you: We hope you enjoy this "Bottling Day at a North Carolina Winery".
What is your favorite Carolina wine? Which is your favorite winery to visit in the Carolinas? Comments/Feedback/Other interesting things to do and see in the Carolinas? Please let us know in the comments below.