North Carolina is full of beautiful scenery that varies greatly due to the massive diversity available as you travel from the beaches in the East to the Mountains in the West. Very few states offer up such a wide range of diverse destinations; many of which are only a few hours apart making it easy to hit multiple top spots in a single day trip. Of these great destinations, some offer up truly unique, even epic, photo opportunities. Whether it is just the angle of the picture or the fact that you are truly exposing yourself out on a ledge, these five destinations will provide the landscape for a unique perspective, fantastic view, and truly epic picture. The rest is up to you.
We also have videos for each location so that you can learn more details about each destination before planning your road trip.
1. Hawksbill Mountain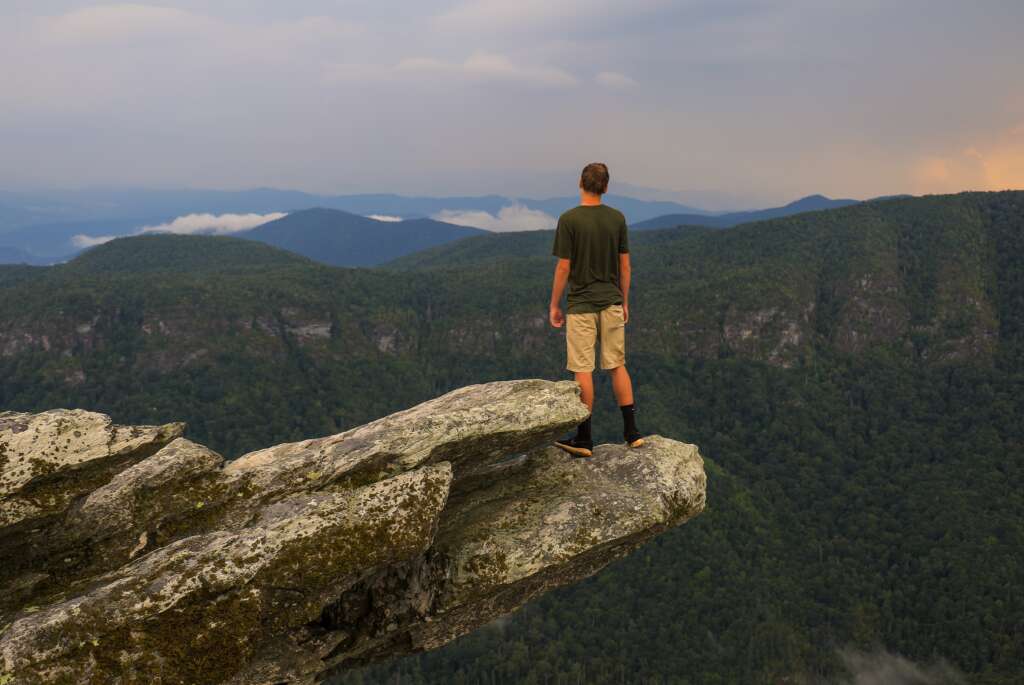 Hawksbill Mountain
A moderate uphill hike will take you to the top of Hawksbill Mountain that offers breathtaking views of the popular and picturesque Linville Gorge below. At the top of Hawksbill there are numerous rock outcroppings that jut out hundreds of feet above the valley below. If you are brave enough, you can walk out on these ledges while your buddy snaps a picture of your daring antics. Will the rock hold while you are standing on it? Who knows? It's safe to say it has held up for thousands of people before you who have ventured out there to have their picture taken. Unlike some photos that just look like you are on a rock high above the valley due to the angle of the photo, on this one, you are truly exposed out on the ledge making the shot even more epic so be very careful as you attempt this shot and use your best judgement considering Mother Nature's sometimes windy and wet conditions.
2. Pickens Nose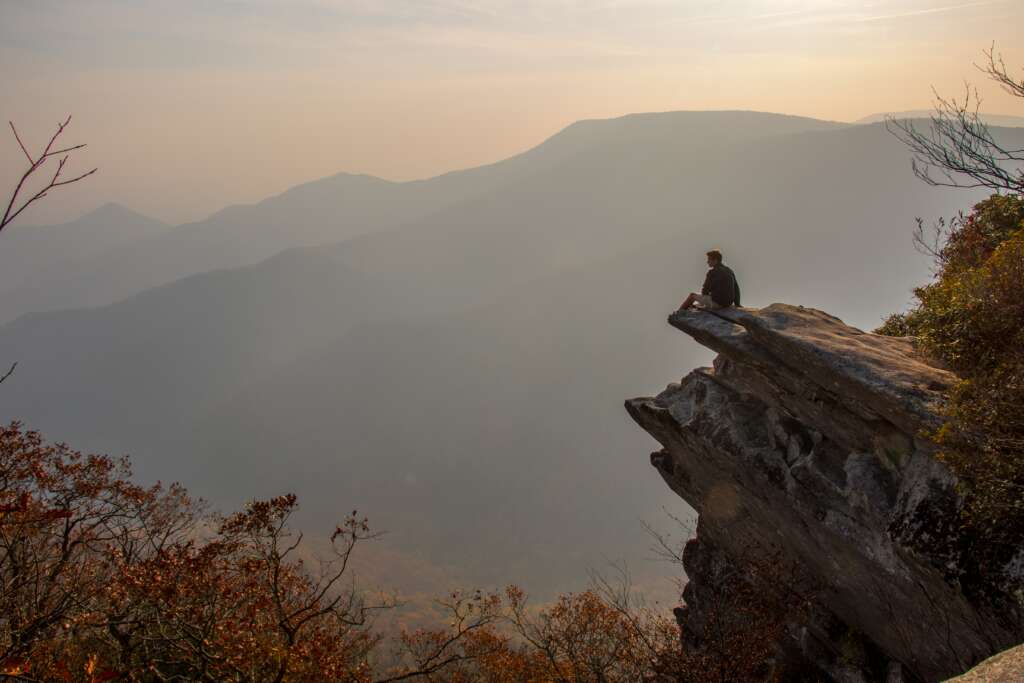 Pickens Nose
Yeah, the name is correct, Pickens Nose! Like Hawksbill, this is another rock cropping that you can walk out on while your friend, who is safely on solid ground, takes your picture. It isn't quite as exposed as the photo op spot on Hawksbill, but you are still hanging out over a ledge with a long drop-off to the valley below. Pickens Nose, as the story goes, was supposedly named after General Andrew Pickens who had a long angular nose. The local natives didn't like him too well and named the rock to spite him. Versions and details of the story can vary depending on who you hear it from but it does make for a good laugh while you hike the short, less than a mile, trail up to the exposed rocks.
Sign to Pickens Nose Trail
As an added bonus at this spot you can stand in front of the "Pickens Nose Trail" sign with your finger up (or to the side) of your nose and get a picture. This is not an epic shot but still funny a one almost too tempting to resist.
3. Turtleback Falls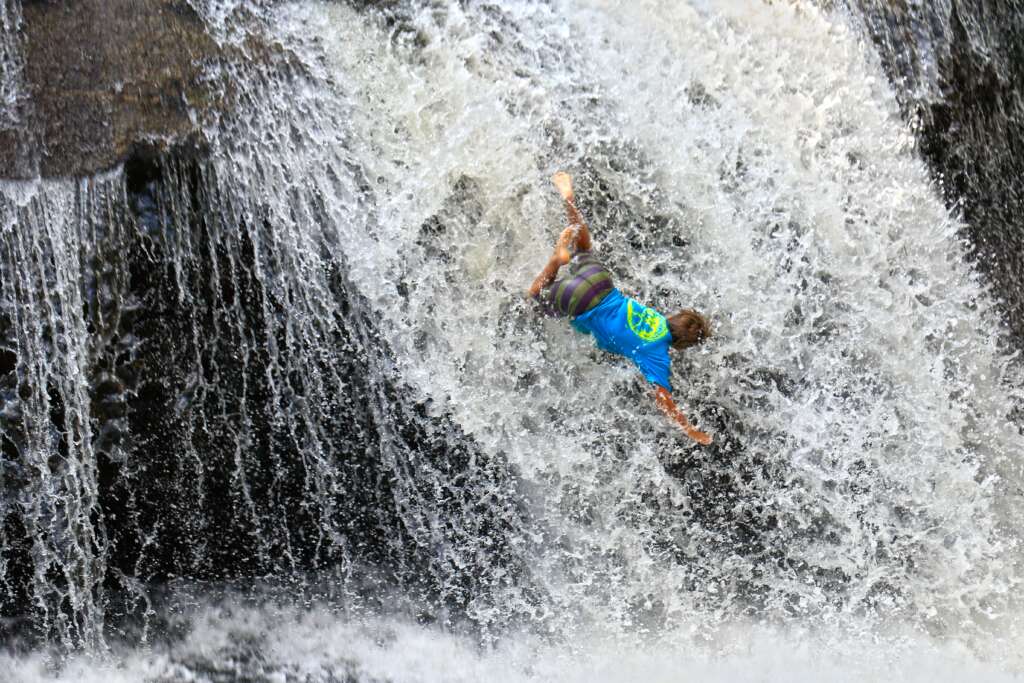 Turtleback Falls
Western North Carolina has hundreds of waterfalls that you can visit although there are only a few that you can "ride" and live to tell about it. Turtleback Falls is one of those spots and is a very popular swimming hole during the warm summer months. Turtleback Falls is only about 20ft high with a large and deep pool at the base of the falls. The favorable slope and overhang create a truly unique wilderness slide that offers outstanding photo opportunities for you and/or your family. Where else can you get a picture as you go head first over a waterfall? If this isn't epic then I don't know what is!
As fun as this sounds there are a couple caveats you need to consider before you make the moderate hike to Turtleback Falls. First, Turtleback Falls is remote, the hike to the falls is about 1.5 miles. Also, there are no lifeguards present and you are a long way from help if you get hurt. Lastly, and perhaps most important, is that the 150ft Rainbow Falls is just a quarter of a mile downstream from Turtleback Falls. You can't ride Rainbow Falls so make sure the conditions are safe before getting in the water. Keep in mind that rivers and waterfalls are constantly changing. I'm sure this brave soul checked out the conditions at the base of the falls before riding them into the pool below. Water is a force to be reckoned with, it moves rocks and trees downstream so always check the conditions at the base before you go head first into a waterfall. Stay safe so you can have more epic adventures.
Who's game?
4. Hanging Rock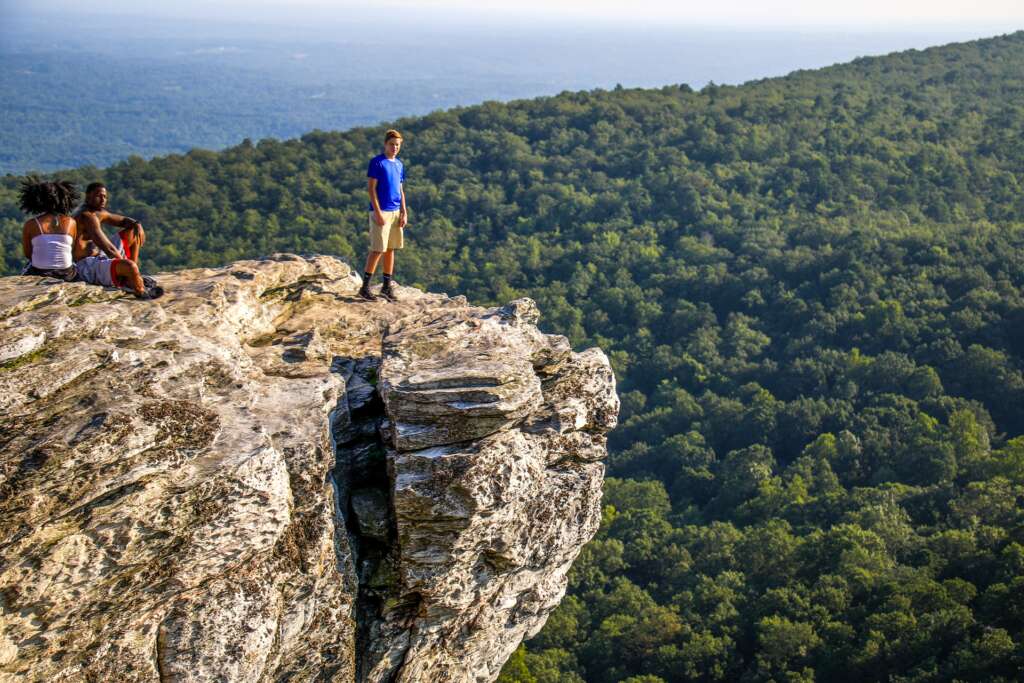 Hanging Rock
Central North Carolina is home to the very popular Hanging Rock State Park where you can hike up to the parks namesake and enjoy a near 360 degree view of the surrounding valley. The massive craggy peak of Hanging Rock also has several photo opportunities where you can walk right up the ledge for that fantastic picture of you with the valley hundreds of feet below in the background. The mostly uphill hike of 1.3 miles is properly rated as strenuous but it is absolutely worth every bit of the effort. Exercise caution at the top of this rock formation as there are no protective railings and the drop-offs are sudden and severe.
5. Wisemans View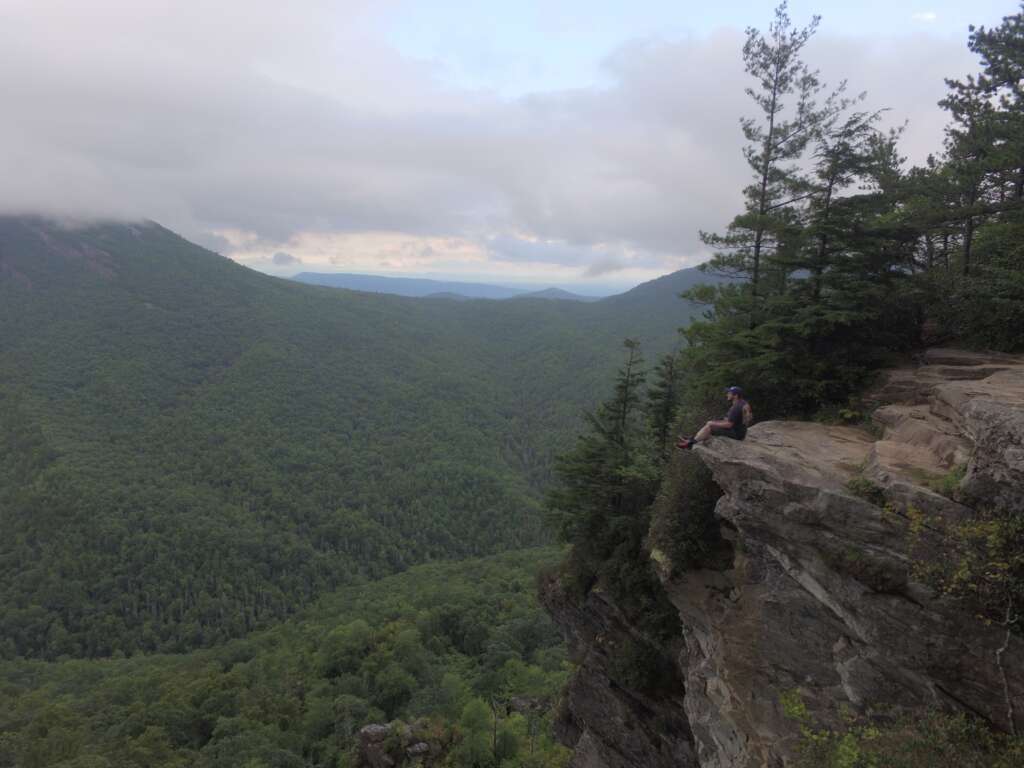 Wisemans View
On the opposite side of Linville Gorge, across from Hawksbill Mountain, is the remote but easily reached Wisemans View. Only 2/10's of a mile from the parking lot along a paved trail yet very remote due to the miles of unpaved roads you need to travel to reach it. This is a special spot and a great location for watching the sun rise over the mountains on the other side of the gorge. If you are quiet you might be able to hear Linville River as it rushes through the valley below. As for photo opportunities, Wisemans View doesn't disappoint. You are right up on the edge of the gorge so whether you are looking for epic scenery, exposed rock or an epic photo op of you sitting out on a ledge, you will find it at Wisemans View. Be careful around these exposed cliffs. It is a long way down to the valley below..