The Carolina's have hundreds of beautiful waterfalls that are accessible to the public. The majority of these waterfalls are not roadside and require some type of a hike to reach them. While most of these hikes aren't too difficult there are still more that will require some significant effort to reach. Fortunately, some of the more beautiful waterfalls are available without any hiking at all and those waterfalls are the subject of this post, waterfalls that require little or no hiking! While some are literally roadside, we think you should get out of your car if you are able so you can more fully enjoy their beauty. Here is a list of seven waterfalls in North and South Carolina that you can view without ANY hiking! These are truly no hike waterfalls. Here is our list in no particular order: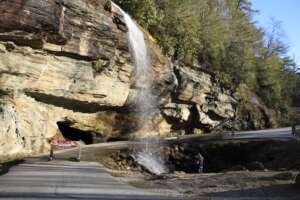 Bridal Veil Falls
Just minutes from Highlands North Carolina is this beautiful roadside waterfall that you might be able to drive under. Sometimes the passage under the falls is blocked off but, if it is open, you can drive behind the waterfall for a completely unique experience (and photo opportunity). Even without the thrill of driving under the waterfall, you can still get out and walk behind it. Take care when pulling up to this spot as it is popular and located on a curve as Highway 64 heads away from Highlands.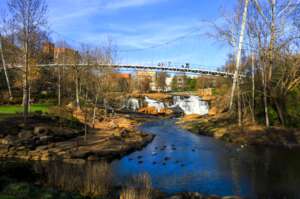 Falls Park on the Reedy
One of our favorite city parks is the Falls Park on the Reedy River in downtown Greenville, South Carolina. While this waterfall isn't roadside and you technically have to walk from your parking spot to the falls, we are not going to consider that an actual hike. Parking is typically available very close to the park so it rarely requires much of a walk to access this beautiful city park that is build around the wonderful Reedy River Falls. The best viewing spot for this waterfall is from the top of the unique Liberty Bridge that spans the park.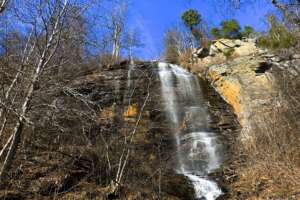 Shunkawauken Falls
Located just minutes from where the busy Interstate 26 intersects with Highway 74, Shunkawauken Falls is a very tall waterfall that plummets down the mountainside just feet from the winding road leading up the mountain. It is so close to the road that your car may catch some spray from the falls as you drive by and the water rushes under the road. The flow on Shunkawauken Falls will vary greatly depending on the amount of recent rainfall but it rarely stops and is always a great, and easy, spot to visit. You will likely have to enjoy this one from your car as you drive by as there really isn't anywhere to stop and get out.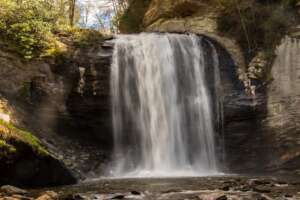 Looking Glass Falls
Probably one of the most popular and visited waterfalls in the Pisgah National Forest and for good reason, Looking Glass Falls is a beauty that always delivers a spectaular show. You can park and walk right up to a viewing area that provides complete and unobstructed views of this wonderful waterfall. There is also a short paved path that leads down to the base of the falls but this isn't required to get a good view. It is also just minutes from downtown Brevard, North Carolina.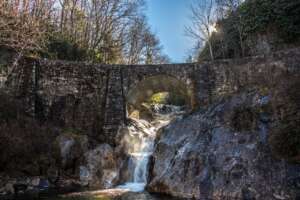 Sunburst Falls
Sunburst Falls is a large cascade that flows under Highway 215 just north of the Blue Ridge Parkway as you head towards Canton, North Carolina. If you don't know it is there you may miss this gem as you drive over it on a 1930's era stone bridge that was built over the waterfall. There is a small pull-off just to the North of the bridge that you can park at to view the falls. Be careful as you walk along the highway, drivers can sometimes be distracted by the beauty surrounding Sunburst Falls.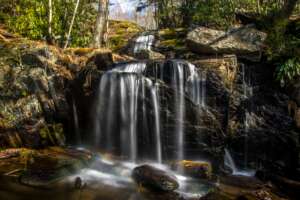 Waterfalls Park
Newland, North Carolina has a small city park built around a series of waterfalls and cascades as a small mountain creek works it way down the mountain. The waterfalls are small but there are a few of them and they are beautiful to see. The lowest cascade is viewable from the ground level of the park with the upper cascades being accessible via a short trail following the creek up the hill.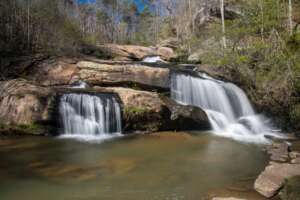 Chau Ram Falls
In the far Northwest corner of South Carolina, almost at the Georgia border, is the Chau Ram County Park which is home to the very nice Chau Ram Falls. The park itself is a wonderful park that has a lot going on but Chau Ram Falls is definitely the centerpiece of this park. You can see it from the parking lot before you even get out of your car and within just a couple of steps you can be right at the shore across from the falls. This waterfall doesn't disappoint, it really is beautiful and worth the trip. Plan on staying awhile as there is lot more to see within the park.
We have short videos available on each of these great destinations so click through to watch a short video as you make your plans to visit any of these great waterfalls in the Carolina's.