We have all been out exploring or driving around and wondered the same questions: What hiking trails are near me? What waterfalls are close by? What are some interesting things to do that are near by? These are completely reasonable questions since your smartphone knows everything about you including your exact location at any moment. Yet these questions are surprisingly difficult to answer through traditional search queries. Most of the websites that come up are too general and the online maps, like Google Maps, are often incomplete or return inaccurate information. They are getting better but are not always providing relevant or interesting results. So where can you get this information? HD Carolina can help.
There are two features on the HD Carolina website that are designed to specifically help with the questions of "What is near me?". Many visitors to HD Carolina know and use this but, just in case you don't, we will describe it here so that you can also benefit from these features.
Episode Grouping
When you click on the episode link to view our videos, the default is to list everything. You can narrow this down by utilizing the drop-down that is present at the top of the episode list. You can narrow it down to only include what is in North Carolina, South Carolina, Hikes, Waterfalls, as well as a few others. It also has, at the bottom of the list, an option to display the "Closest 24":

As long as you have the GPS on and it is accessible to your browser (most people have this enabled), you will get a nice list of 24 attractions that are close to you starting with the closest item. Does it get any easier than this? You can also visit the…
Interactive Map
HD Carolina also has an interactive map available that shows the location, via pins, of each of our episodes. There is also a button on the map, that if you have GPS enabled, will display your location on the map and zoom in to show you everything that is nearby: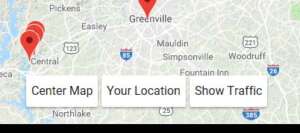 You can zoom in or out to find the range that suits you. You can also click on the pins for a quick summary of each location and then decide if you want to watch the video or not.
So the next time you are out wandering and you wonder what is around you, visit www.HDCarolina.com for a quick look at exactly what there is around you to do. We hope that you find these features useful!