It is probably very obvious that we really like waterfalls as the majority of our episodes are on great waterfall destinations (over 100!). There are so many great waterfalls in the Carolinas and we just love discovering new ones and sharing them with everyone. While many of them require a hike or walk to reach the waterfall, there are a lot of them that you can see just driving by as they are completely roadside accessible. While we have already featured many of these roadside waterfalls on episodes and in previous blog posts (see Seven Waterfalls You Can View Without Hiking) we just keep finding new ones that need to be mentioned. These particular waterfalls are probably not episode worthy since they are so easy to reach and are somewhat small in size but if you are in the area, these are definitely worth checking out.

Green Mountain Creek Falls (36.107601, -81.782022)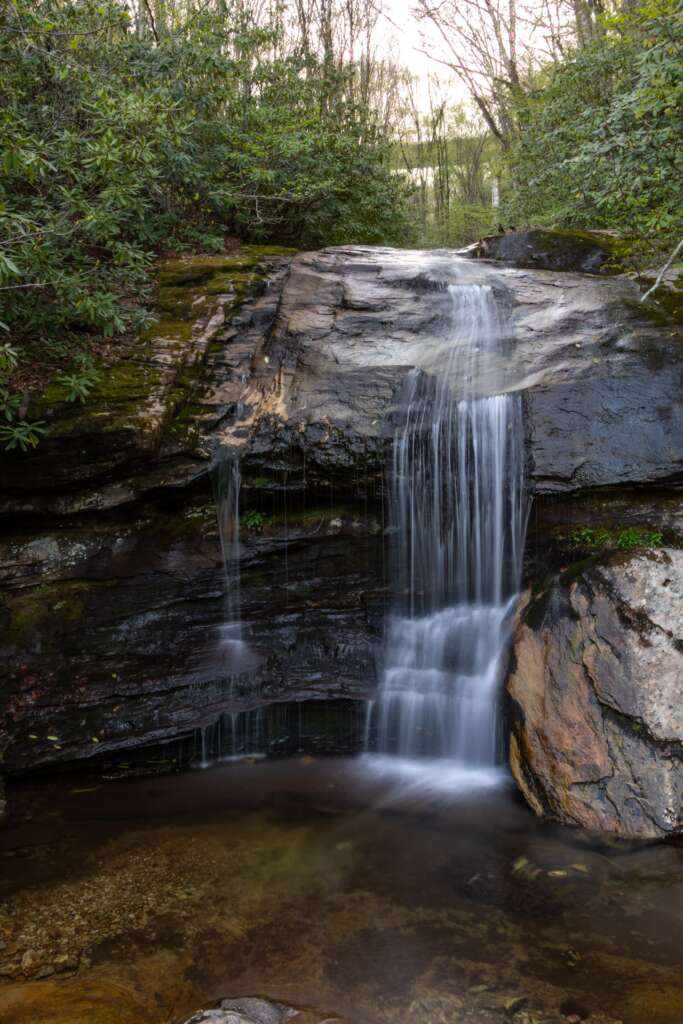 Located about 9 miles west of Blowing Rock North Carolina on Highway 221.  This short waterfall is very picturesque and there is a pull off just past it if you want to stop and take a closer look; otherwise, if you slow down as you make the corner, you will get a great view of this waterfall.
Merry Falls (35.199324, -82.643390)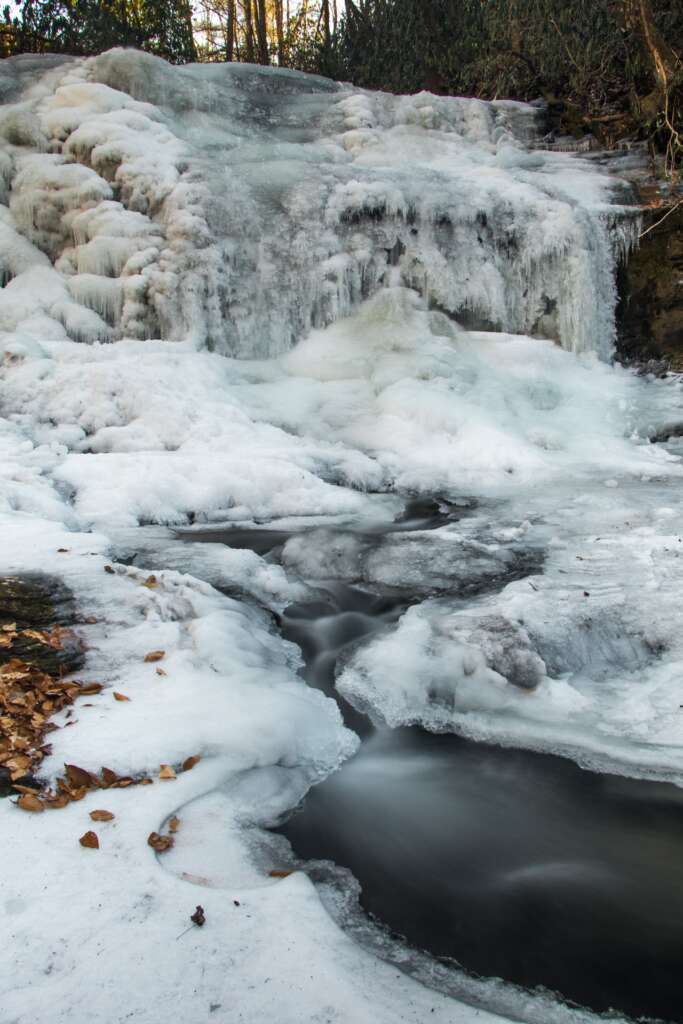 Just a few mile outside DuPont State Park on Cascade Lake Road, Merry Falls is not viewable from your car but it is just next to the side of the road.  If you head North on Cascade Lake Road from where it intersects Staton Road, the falls will be about 2 miles up the road on your left.  Merry Falls is a pretty good waterfall and somewhat of a hidden gem in an area that is full of waterfalls.  If you visit DuPont State Forest, do yourself and favor and checkout Merry Falls when you are there.
Cullasaja Falls (35.116831, -83.270031)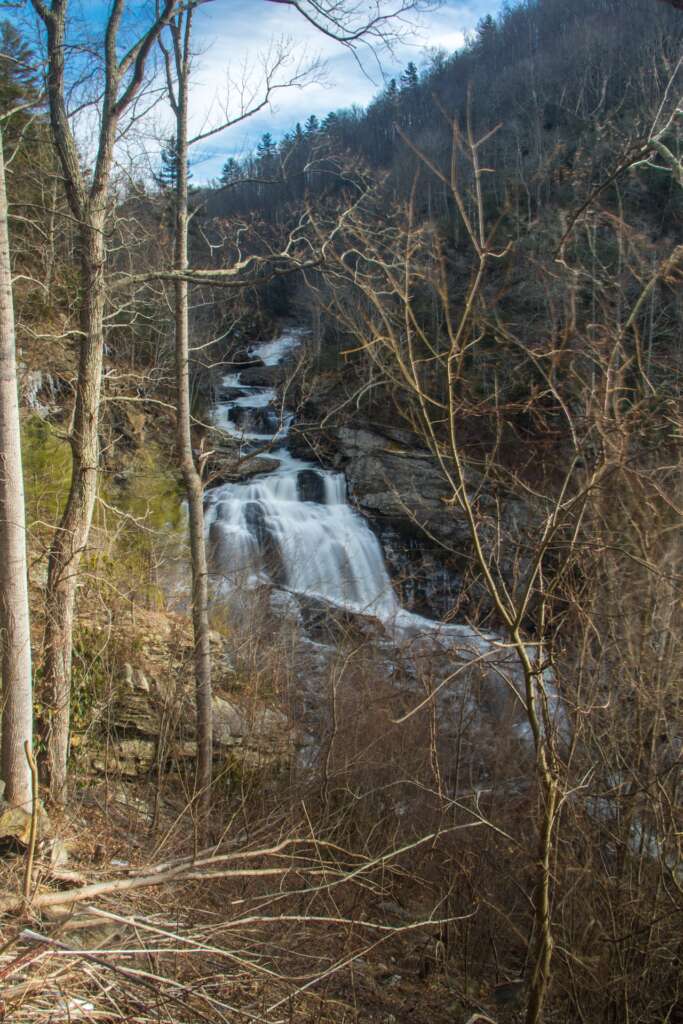 Cullasaja Falls is massive and is always an impressive sight but when the water flow is good (after heavy rains), it is exceptional.  It is located on Highway 64 between Highlands and Franklin and briefly visible as you drive by this very curvy section of Highway 64.  There is a very small pull-off you can use but there is only enough room for about 2 vehicles and there may not be enough room if others are enjoying the view.  This is also in a very steep section of the gorge and unfortunately there isn't a safe trail down to the waterfall.  So for now, this is really only a roadside attraction.
Bust Your Butt Falls (35.092937, -83.266010)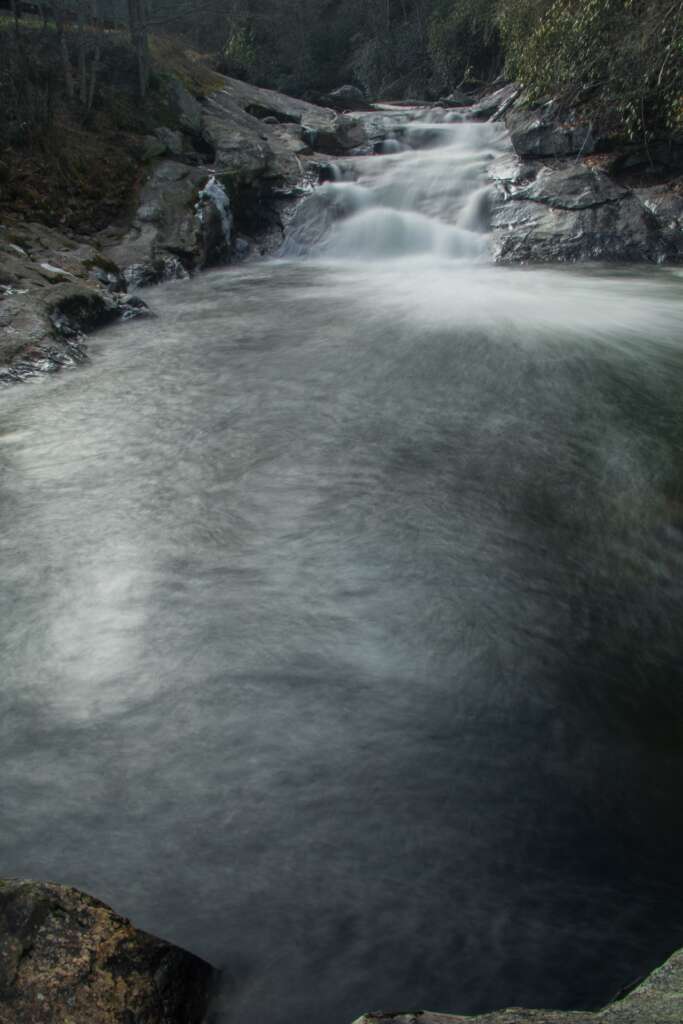 Close to Cullasaja Falls near Highlands North Carolina.  This great roadside waterfall is easily viewed as your drive by but has a spacious area for parking if you want to stop and have a closer inspection.  It is also a very popular swimming hole (as the name would suggest) so it can be somewhat crowded at times.
Numerous Cascades on the Road to Douglas Falls (35.728921, -82.374443)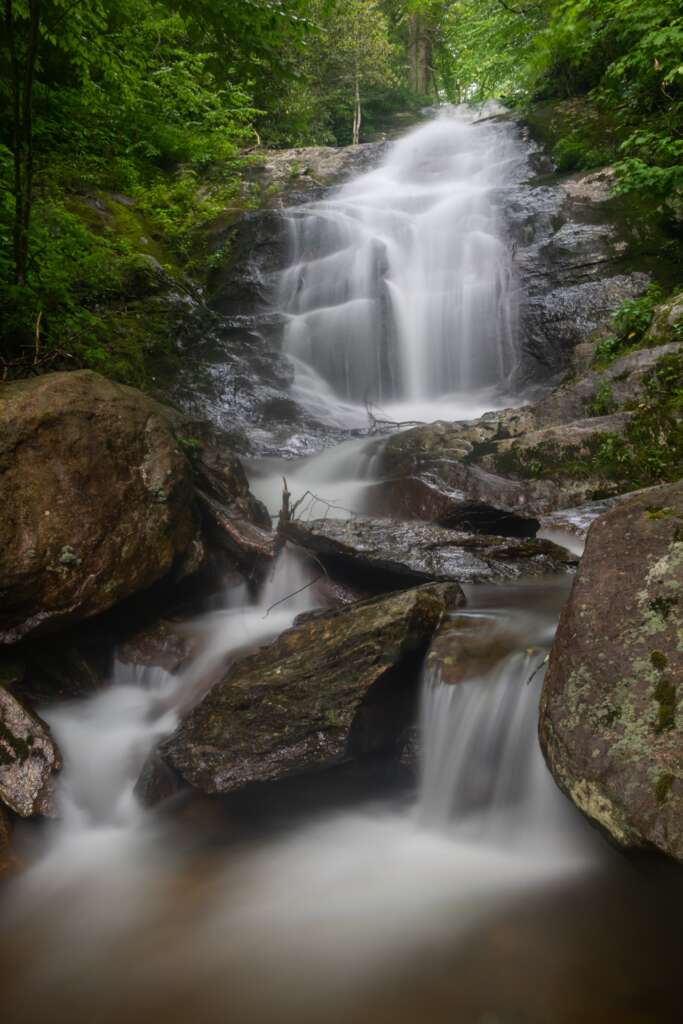 Douglas Falls is a great and easy waterfall to visit.  The trail is only 1/2 mile to the falls and it is a very beautiful waterfall and spot in the forest.  The drive to it however, is somewhat extended on an unpaved forest service road.  The drive is well rewarded with numerous small cascades and waterfalls that are formed as small creeks intersect the road.  For the best viewing of these little treats, make the trip after there has been a lot of precipitation.  You won't be disappointed by the numerous waterfalls or the visit to Douglas Falls at the end.
We will end this blog post with a few additional pictures from the road to Douglas Falls.  We hope you enjoy visiting these North Carolina roadside attractions.