With 2017 "in the books" and 2018 well underway, we thought it would be fun to look back at the videos we published in 2017 and pick our top five based on the overall experience we had at each location. This list is not to discount or minimize any of the other locations, but merely to highlight some of our favorites. Choosing what would make the cut was almost as impossible as picking your favorite child; however, when you visit a location there are many factors that can either enhance or degrade the experience, which made our task slightly easier. It could be the weather, how crowded it is, or even just how we feel on a particular day that turns an adventure into a memory. Regardless of the reason, there are things that just made the experience better on that day, everything lined up and we enjoyed the perfect hike. That being said, here is our top five in no particular order.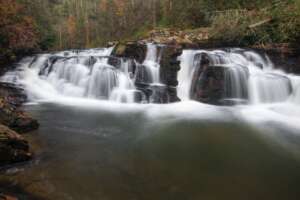 Chauga Narrows
We had very little expectations on our hike to the Chauga Narrows because there wasn't an abundance of information available for it online. There were a lot of websites that referenced it but none of them were very descriptive; although, they all did agree that it was a wild place. The pictures online (which includes ours) don't even come close to capturing just how turbulent this place is. It is crazy! It is very loud, awesome and is one of those places that makes you feel very insignificant. We were completely blown away with it during our visit. We were fortunate enough to enjoy the entire place to ourselves and had a wonderful time; although, it was probably because we arrived so late. We ended up hiking back in the dark, which we wouldn't recommend, but it was so worth it!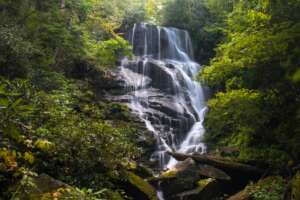 Eastatoe Falls
Another location where expectations were completely and pleasantly exceeded in a major way was Eastatoe Falls. To be honest, we were somewhat hesitant on visiting and filming an episode here because of previous reviews. Every website we visited about it was very clear that the waterfall was in someone's backyard. It just didn't seem like it would make a good video. For starters, it seemed weird showing up at someone's house and hanging out in the backyard. How would we capture and document this properly in a video so that it worked with our format and flow? All of our concerns and worries were quickly dispelled when we arrived as it was very clear that the landowners are okay with people visiting the treasure in their backyard. Minds blown! As we state in our video, these are some special people. Our hope is that the general public shows this place the respect it deserves so that it continues to be available for everyone to enjoy. And the waterfall itself? Unbelievably beautiful! Who wouldn't want this in their backyard?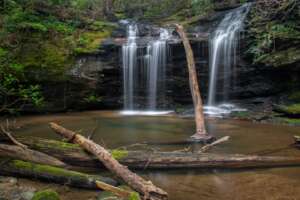 Confusion Falls
There is no confusion that Confusion Falls is somewhat of a rarity when it comes to waterfalls. How often do you see two distinct creeks join together at a waterfall? It is remote, beautiful, and very picturesque. The fact that it is somewhat difficult to reach makes it all the more rewarding when you finally make it to the base of this jewel and get to relax in its beauty, while you try not to think about the long hike out. All of this, right after you get to enjoy the exceptional beauty of Moonshine Falls which is only about 2/10's of a mile up the main creek. When we visited Confusion Falls everything fell into place perfectly for what we thought was one of the best pictures we captured during 2017.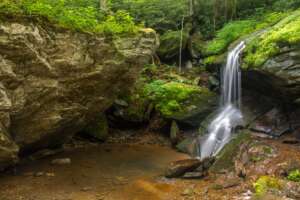 Otter Falls
Otter Falls is one of those magical spots in the forest that you just have to experience. This is another case of arriving at a place, not really knowing what to expect, and being wowed as the forest produces this sparkling gem. The town of Seven Devil's has done a phenomenal job of making this place accessible and preserving its beauty. It is such an easy waterfall to reach and really should be on everyone's short list of must see places. We had a wonderful time when we visited Otter Falls and look forward to future visits when we are in the area. It is also a great spot for taking pictures.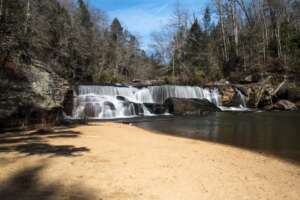 Riley Moore Falls
We visited Riley Moore Falls in the Winter when it was cold so we had the waterfall and surrounding beach to ourselves. This probably contributed greatly to our unique experience as it is a popular swimming hole and is usually very crowded. However, if you are able to visit Riley Moore Falls in the off season, you will probably have a similar experience and come away with a love for this spot like we did. When we were all done filming, we just wanted to hang out on the sandy shore and listen to the roar of the waterfall. It was very peaceful and we thoroughly enjoyed our visit to Riley Moore Falls. It is also another great location for photography.
While these were our favorite video locations, we have to throw in an honorable mention to the Great American Eclipse that crossed over the Carolinas during 2017. We enjoyed the eclipse from a small town in South Carolina and were in complete awe of the event.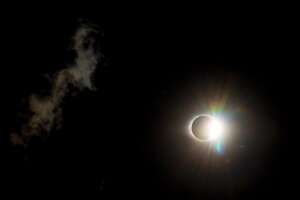 We documented our experience in another blog article(Eclipse Memories…) if you want to read more about it.
We can't wait to see what 2018 has in store for us!